Company News
It's been a busy yet exciting quarter at Jitterbit.
We launched App Builder, a low-code application development tool that helps organizations rapidly build, deploy and maintain web and mobile-based applications. A seamless extension of the Harmony integration platform, App Builder provides several benefits, such as empowering employees external to central IT — also known as "business technologists" — to build applications. In a world where IT democratization is becoming the norm, IT leaders are also seeking ways to provide guardrails for business technologists. Jitterbit's VP of Engineering Services, Will Au, shared some helpful tips on how to do so in our latest podcast.
While in the midst of a major product launch, we helped customers tackle more integration initiatives than ever before, expanding our existing business with our customers. At the same time, we welcomed many members to the Jitterbit community, including over 100 new customers, 6 partners and 32 employees.
Here we'd like to introduce you to two of those new members: Avner Alkhas, our new Chief Financial Officer, and Colin Lillywhite, Managing Director of APAC. Both leaders bring a strong track record of driving results at software and services companies. They will play key roles in accelerating our expansion globally and bringing additional innovative solutions that make our customers' businesses run better.
We're also pleased to announce that Jitterbit's Jeremy Parker has been promoted to Chief Operating Officer. Within months of joining Jitterbit, Jeremy proved to be a successful and trusted change agent. In his new role, he will be responsible for unlocking additional growth opportunities, executing on our expansion plans and driving operational improvements.
What's New with Harmony
The addition of App Builder wasn't enough for us. We continued to add new and enhanced Connectors for Harmony's Cloud Studio. Here's a summary of the latest additions:
| Connector | New or Enhanced | Capability |
| --- | --- | --- |
| Jenkins | New | Supports activities for Get, delete, start, or stop a job on a Jenkins automation server |
| WooCommerce | New | Supports activities for Read, send, create, update, upsert, or delete SendGrid objects |
| SendGrid | New | Supports activities for Query, create, update, or delete WooCommerce objects |
| Apache Kafka | Enhanced | Supports SSL encryption |
| VTEX | New | Supports activities for Read, Create, Update, Upsert, or Delete records |
| ShipStation | New | Supports Query, Create, Update, or Delete objects |
| OData | Enhanced | Now support for manual queries and variables |
| ANYMARKET | New | Supports activities for Read, create, update, or delete data |
| Magazine Luiza Companies | New | Supports activities for Read or Create data |
| Magazine Luiza Shopping | New | Supports activities for Read data or create carts |
| Microsoft Teams | Enhanced | The Send Message activity now includes hostedContents and mentions in its request schema. |
Events
We seem to be "getting back to normal" when it comes to visiting our customers and partners in person, and we are so excited. Coming in the months ahead, we are planning for several regional customer round tables. Watch for those invites or let your Jitterbit contact know you'd be interested in attending.
ICYMI: The Outlook with George and Singu
In this 30-minute, customer-only event, Jitterbit CEO George Gallegos and Singu Srinivas, SVP and General Manager of North America, discussed how Jitterbit is investing in capabilities to help you navigate the ever-changing business landscape. They also shared what we believe is ahead for the industry and how Jitterbit is preparing for what's next. Listen to the recording here.
ICYMI: North America Customer Meet Up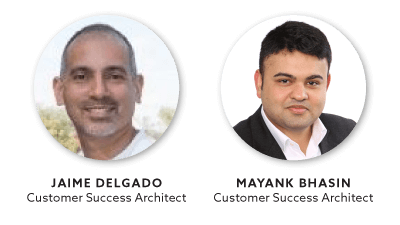 In this quarter's Meet Up, Senior Customer Success Architects Jaime Delgado and Mayank Bhasin demo'd how to quickly create a new Lead in Salesforce using Jitterbit App Builder. During the process, they walked through App Builder's functionality, showing how to create microflows and connect them to Harmony's Cloud Studio and API Manager. Interested in learning more about App Builder? Ask your Customer Success Manager.
Partner Spotlight

In this issue, we are spotlighting our partnership with Forte Group, a full-spectrum custom software delivery partner for enterprises looking to accelerate their business and evolve their engineering practices. Forte Group partners with Jitterbit to offer our customers a streamlined approach to their Salesforce integration initiatives that use our low-code integration platform, Harmony. Together, we recently helped Zesco, a restaurant equipment and restaurant supplies company, integrate Salesforce B2B Commerce Lighting platform with its ERP system, Infor. Learn more here.
New and Noteworthy
Speaking of commerce… Jitterbit recently surveyed small and midsize businesses (SMB) in retail about their top challenges and priorities. Not surprisingly, the customer is front and center, but surprisingly, there's a bigger focus on the in-person experience now.
Stay Connected
We are revamping our social media channels, LinkedIn, Twitter and Instagram. Take this 1-minute survey to let us know what you want to learn more about while scrolling on social media.