Applications
Experts in Salesforce Integration
Create a 360° view of your customers, partners, and employees


Integrate with Salesforce
The API Lifecycle of a Customer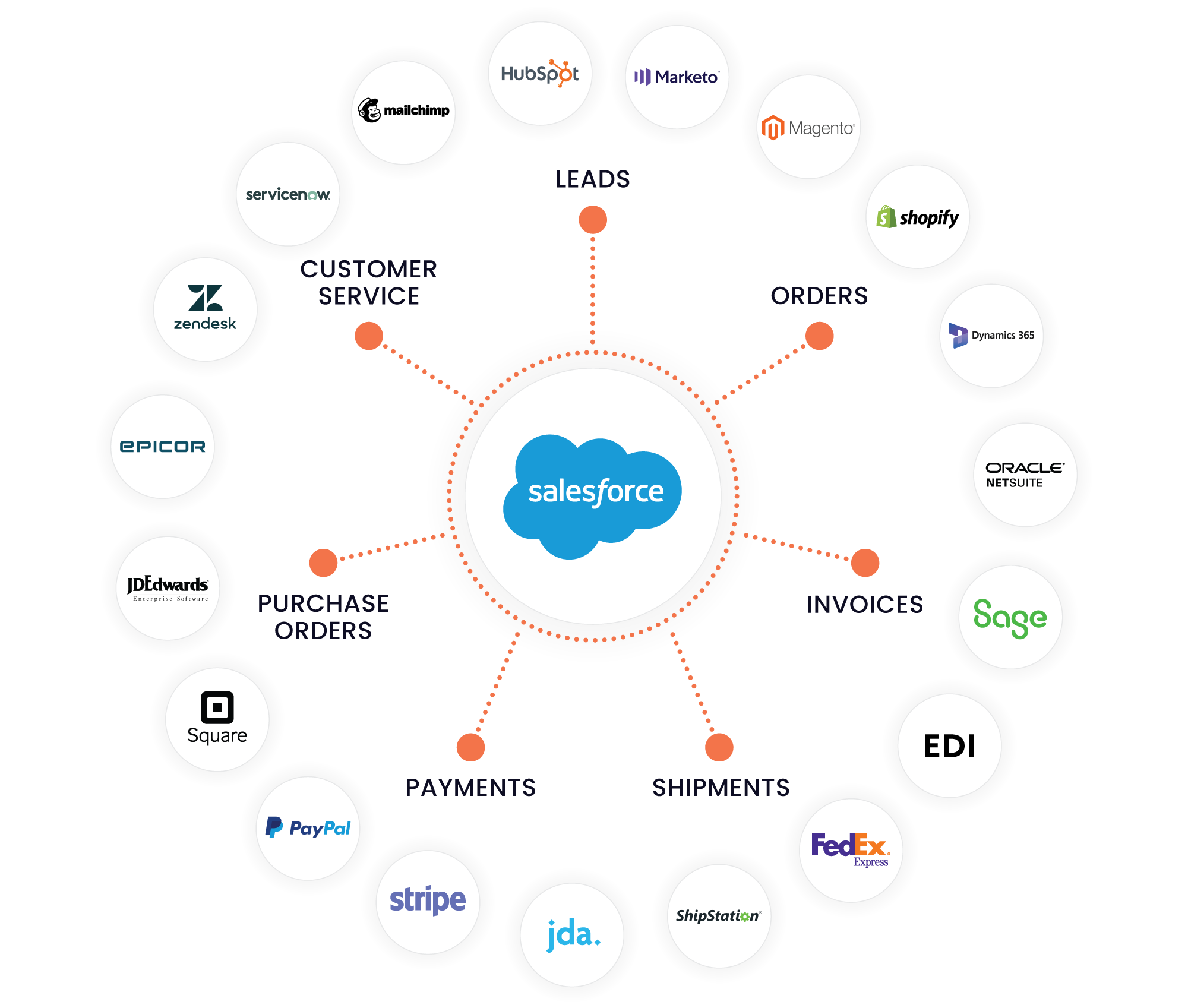 Deliver Your Customer 360
Integrate Salesforce CRM with legacy, on-premises, and cloud applications to automate your business processes to quickly build your connected customer experience.
Pre-packaged process templates forged with best practices, our best-in-class Salesforce connector, a full APIM suite, and #1 rated technical support provides you all the resources you need to rapidly scale your Salesforce data integration.
Streamline Sales Order Creation
Data accuracy, cost efficiency and time savings are some of the main benefits companies are looking to achieve with sales order automation.
This process template helps you quickly synchronize Contact, Account, Customer, Item, and Inventory through Salesforce data integration with NetSuite. Automatically create a sales order in NetSuite when an opportunity closes in Salesforce.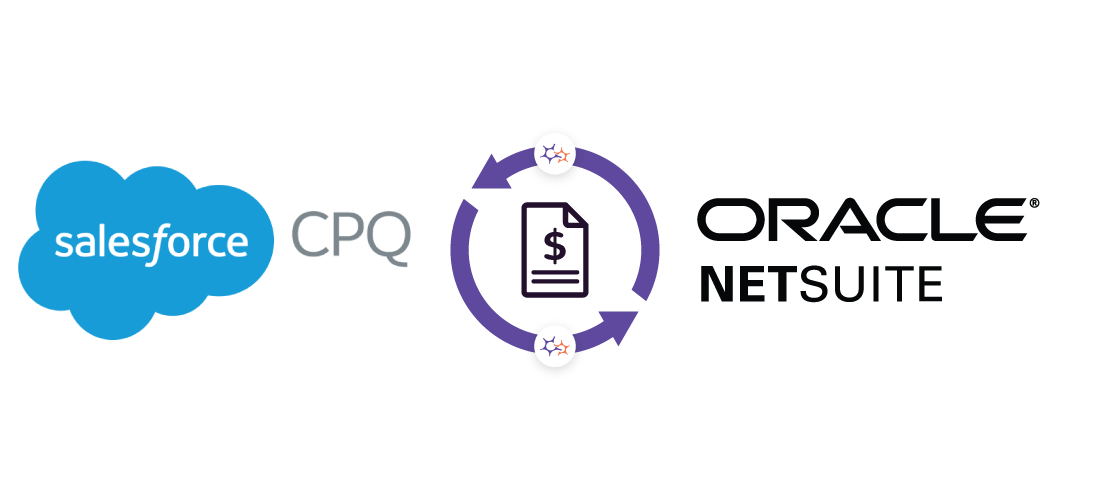 Accelerate Lead to Revenue
Managing and automating your orders and billing is a critical piece to the success of an organization.
Eliminate redundant input, lengthy data syncs, and costly errors. This process template helps you quickly synchronize your Products, Price Books, Orders, Invoices, Payments, and Fulfillment between Salesforce CPQ and NetSuite.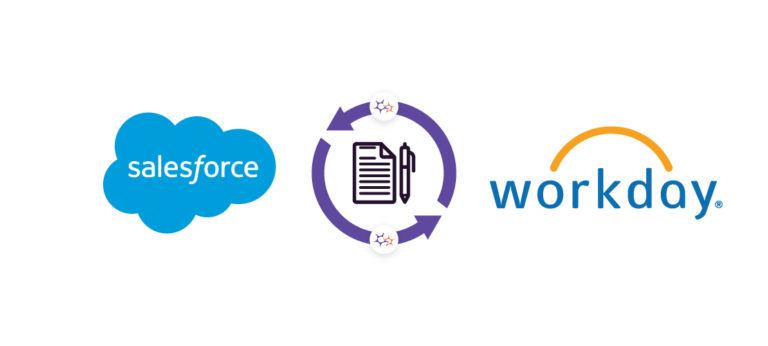 Obtain a Complete View of Your Customers and Contracts
Automating items such as Contact, Opportunity and Contract information between your CRM and HCM allows for a 360 degree view of your customers.
The process template helps you quickly synchronize your Contacts, Customer, Account, Opportunity, Product, and Contract through Workday and Salesforce CRM integration.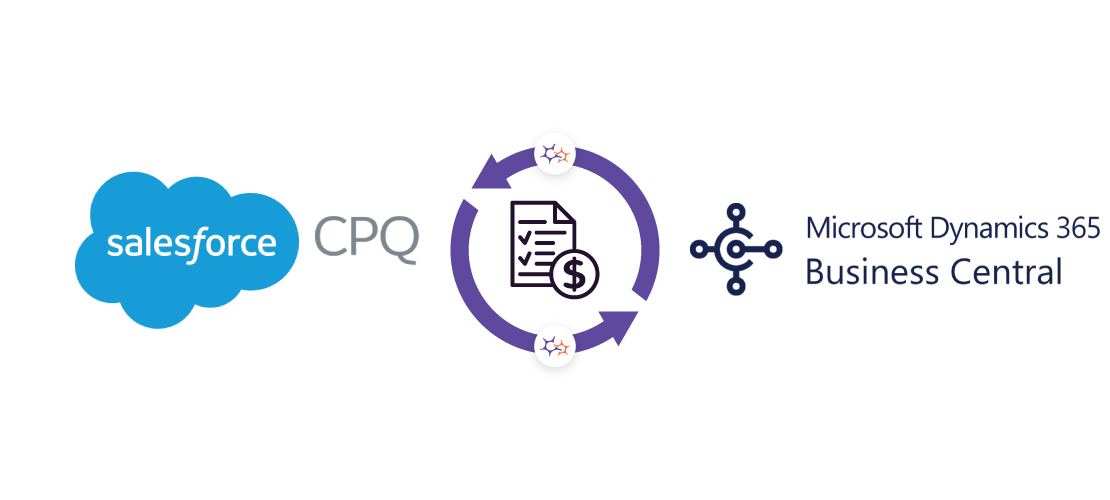 Automate Your Quote to Cash Process
Increase accuracy across your Quote to Cash process and reduce manual processes and costly errors.
This process template helps you quickly synchronize your Contacts, Customer, Products, Price Books, Orders, and Invoices data between Salesforce CPQ and Microsoft Dynamics 365 Business Central.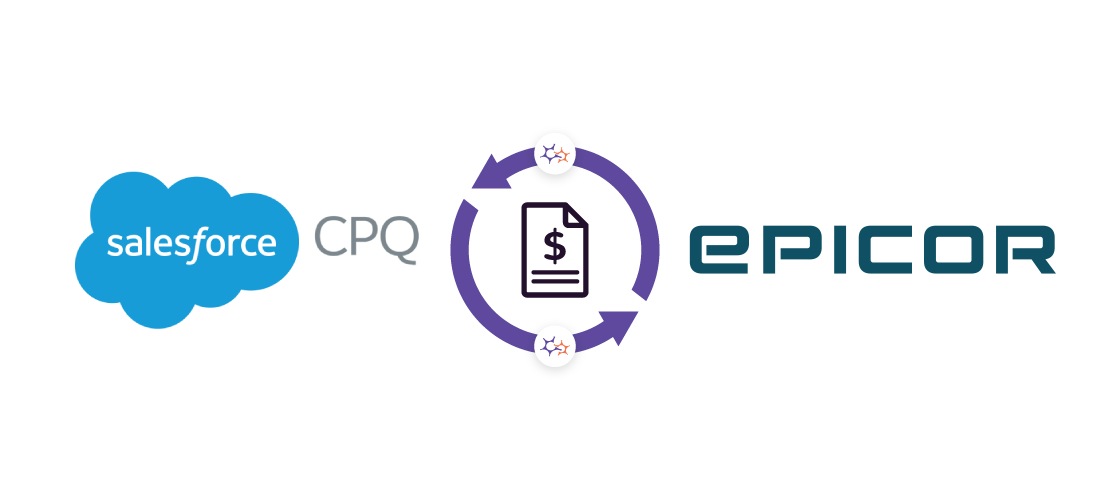 Accelerate Revenue Recognition with Seamless Quote to Cash Process
Inability to synchronize key data objects across Salesforce and Epicor means no single source of truth across customer and order data.
This process template helps you quickly synchronize your Contacts, Customer, Products, Price Books, Orders, and Invoices data between Salesforce CPQ and Epicor.
Trusted By Others
More than 2,500 companies rely on Jitterbit to drive innovation
Videos
Hear What Our Customers are Saying
Related Resources
Salesforce Integration Success
Learn how our customers are transforming their businesses and boosting the return on their IT investments.
Learn More about Salesforce Integration
Frequent Salesforce Questions
Salesforce Integration FAQs
What is Salesforce integration and why you need it?
Salesforce integration is the process of integrating your Salesforce CRM with other systems and applications, such as ERP, Marketing Automation, HCM etc.
There are many reasons why businesses want to integrate Salesforce with their other systems. One of the top reasons is to provide a 360-degree view of customers, employees, and partners so companies can deliver personalized experiences in a rapid manner. Here are more details on why companies are looking for Salesforce integration software.
Manual processes: There is such a wealth of information across systems, from orders to marketing to purchasing to support information. The problem is that this data resides across disconnected and siloed systems. So what often happens is that companies need to manually pull information from these systems or have a need to manually input information into a system like Salesforce which may be the system of record.
Businesses want to automate Salesforce with their other systems to save time and resources, and integration technology provides a solution to allow for more real-time information which leads to responsiveness and insights for customers.
Inaccurate data: Having to enter and re-enter data is not only cumbersome in having to pull files from multiple systems, but it leads to errors. Some businesses work through hundreds of Excel files or rely on their teams to manually transform data so that their systems can properly digest the information. Again, this is where integration with Salesforce comes into play.
Time-consuming custom integrations: The amount of data and the number of systems that house information such as ERP, CRM, HCM is growing. Though a custom integration can at first be fast to deploy, once a business needs to edit or connect additional systems or automate new business processes, that same fast custom code can be brittle and less malleable.
That's where Salesforce integration tools such as an easy-to-use graphical interface through an iPaaS that also provides reusable components such as projects, templates, and having a partner with deep Salesforce integration expertise becomes key.
What are some of the most common use cases for Salesforce integration?
Salesforce data integration spans many different use cases and it can be beyond the traditional Salesforce CRM integration. The end goal is not only automating key business processes, but getting a complete 360° view of customers, partners, and employees. Here are just some examples of popular Salesforce integration use cases:
Salesforce – ERP integration (NetSuite, Oracle, SAP, Epicor, Infor, etc.)
Salesforce – Marketing Automation integration (Hubspot, Marketo, Eloqua, MailChimp, Pardot/Marketing Cloud, etc.)
Salesforce – Support and Logistics integration (Jira, FedEx, UPS, databases, etc.)
Salesforce – Human Capital Management (HCM) and Workforce Automation (Workday, Taleo, etc.)
Salesforce – E-Commerce integration (NetSuite, Shopify, Magento, Amazon, Walmart, etc.)
Integration with internal and messaging and chat tools based on changes in Salesforce to allow for timely alerts and notifications (Slack, SMS, email, etc.)
Typically these integrations are also specific to popular Salesforce clouds such as Sales Cloud, Service Cloud, Marketing Cloud, and more.
Here are some examples of key Salesforce CRM integrations:
Sales order automation: Integrate Salesforce Sales Cloud with your ERP systems such as NetSuite, SAP, Epicor, Oracle to automate your quote-to-cash process and streamline the processing of your orders, billing, inventory, and so much more. Many times, the end goals are to have full visibility and accuracy in automating order management, fulfillment, shipping and returns. Common synchronizations and business logic to automate are across fields such as Opportunities, Products, Orders, Price Books, Invoices, between Salesforce and your ERP systems.
Marketing automation: Integrate Salesforce Marketing Cloud or other systems such as Marketo, Hubspot, MailChimp to your Salesforce CRM to get complete customer visibility across your emails, social, web, advertising, analytics and more.
Support & Logistics automation: Connect Salesforce Service Cloud with your ERP, third-party logistic providers, and service ticket providers to ensure product details, queries, invoices, status on orders, support tickets, inventory, warranty information are all at the fingertips for your support teams. Example systems connected: Oracle, SAP, NetSuite, FedEx, USPS, UPS, Jira, BMC, ServiceNow, email, databases, etc.
There are also use-cases that pertain to specific verticals such as education, non-profits, manufacturing, healthcare, and more. For example, there are specific instances of Salesforce tailored for Higher Education with standard objects that include fields such as financial aid, admissions, housing, and more. And there are also specific Higher-Education specific applications such as Student Information Systems like Ellucian Banner, or Learning Management Systems such as Canvas.
The end goal is to achieve a complete 360 degree view of recruitment, admissions, student success, donations, and alumni outreach data. Jitterbit has worked with 100s of universities and colleges on Higher Education systems integration with Salesforce.
What are some of the Salesforce Integration Best Practices?
From the decades of Salesforce integration experience, we decided to put together some Salesforce integration best practices so you can get some tips and tricks on best ways to integrate with Salesforce. Our teams have a wealth of expertise across use cases in Salesforce integration. We would be more than happy to help understand your requirements and recommend the best plan of action for your Salesforce integration.