---
Greg Belkin, Director of Product Marketing, Jitterbit
Sharvaani, Content Marketing Manager, Jitterbit
---
According to Jitterbit's 2021 Human Resource API Integration Survey, 32% of respondent organizations are prioritizing recruiting as a key 2022 system integration priority. The survey also found that an additional 30% of respondents are prioritizing compensation management, and 28% of respondents are focused on employee onboarding and offboarding as a 2022 focal point.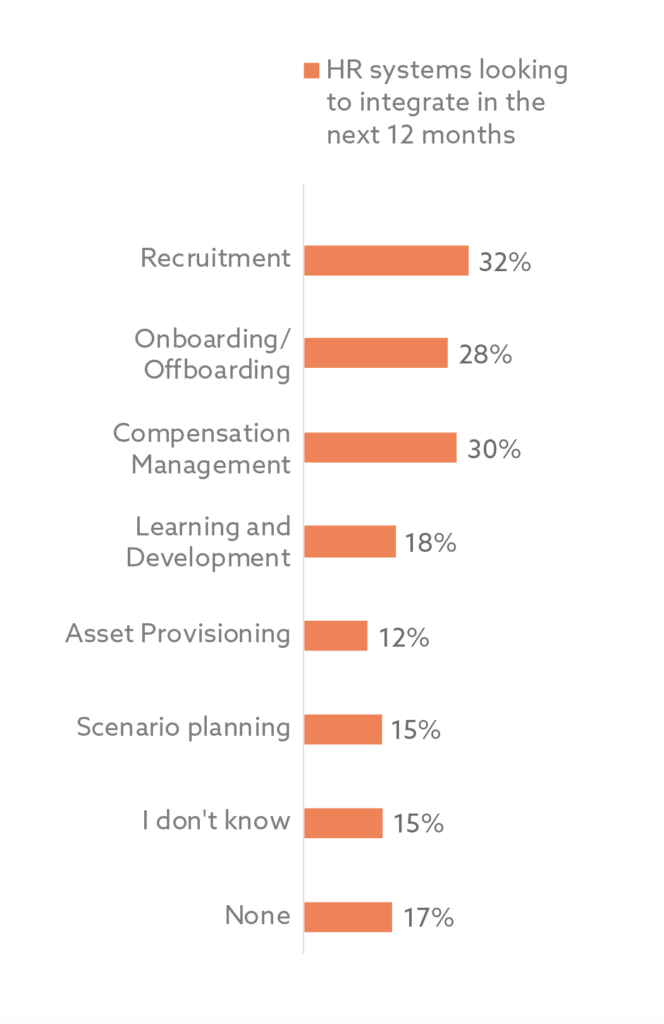 Recruitment, compensation management, and employee onboarding-offboarding all have a profoundly positive effect on both the employee and the HR manager experience, from the moment the first contact is made with a candidate, through recruitment, hiring and onboarding, and up until the very last day of employment. Each is a traditionally difficult process to manage, but, if properly managed, can positively impact both the employee and HR manager.
Recruitment and Applicant Tracking
Lets face it: applicants have high expectations when they apply for a new position. They want the hiring process to be quick, smooth and transparent. HR managers have similar expectations, in that they need the process to be as efficient as possible so that they can process as many candidates as time will allow. Unfortunately, if an organization is using multiple systems to track applicant activity without sharing and coordinating key data, it can lead to delays that adversely affect candidate morale, internal productivity, and potentially result in loss of talent availability.
Integrating applicant tracking systems and other recruitment-related data sources together:
Prevents delays from occurring, strengthens the hiring process and increases productivity and morale among potential employees.
Allows for easier arrival at a hire or no-hire decision in a reasonable time frame.
Ensures that the right person for the job is selected based on multiple sources of data discovered during the hiring process.
Employee Onboarding-Offboarding
According to Jitterbit's 2021 Integration survey, more than 52% of respondents indicated that HR onboarding and offboarding systems within their organization are currently integrated in some form or another. Additionally, nearly one-third (28%) of those survey respondents are also prioritizing onboarding integration within the next 12 months – making it clear that onboarding and offboarding is a top organizational priority. High-performing organizations know that when a new employee joins an organization, a lot goes on in the background to accommodate their arrival. Adjustments and new entries must be made to existing human capital management systems, as well as payroll, expense, asset management and procurement. With so many different systems in need of updating, the possibility of human error and excessive time delays increases exponentially.
Integrating employee onboarding-offboarding systems accomplishes several key goals, including:
Allowing critical information collected in the recruitment process to be shared with traditional onboarding solutions.
Decreased possibility of manual entry-related delays or errors.
Ability for new employees to complete the onboarding processes faster, decreasing time to productivity.
Helping HR managers address critical staffing issues faster by providing them easier access to pertinent employee-related data.
Ultradent, a global dental supply and manufacturing company and Jitterbit customer, is one organization that appreciated this need for employee onboarding and offboarding automation, and decided to do something about it. "We were looking to create a seamless onboarding experience and move away from a time-consuming process that included multiple departments, systems and personnel dependencies," said Jason Namoc, integration engineer at Ultradent. "The result [of doing so] is a seamless experience that expedited employee time-to-productivity and increased employee satisfaction."
Compensation and Employee Expense Management
The 2021 HR Integration report found that 30% of respondents are looking to integrate compensation management-related software in the next 12 months. Jitterbit believes that a key driver of this desire is that compensation management is often stressful, complex, and time-consuming for all involved parties. It's also a high-visibility process that employees depend on to be correct on the first attempt. Compensation management often involves the coordination of multiple systems of record, including formal expense management systems, ensuring compensation and expenses follow rules established in human resource management (HRM) systems, and process execution within payroll. It also involves servicing employees who expect this compensation and reimbursement process to be fair, timely, and accurate. That puts a lot of pressure on HR, finance and all other stakeholders to get it right.
Integration of critical compensation and employee expense-related processes leads to several key benefits for organizations. Benefits include:
Increased productivity for HR managers by automating expense reporting and payroll-related processes, compliance reviews and submissions.
Increased employee satisfaction and morale thanks to accelerated expense entry and payroll detail visibility.
Accelerated time-to-pay model that can be relied upon for critical financial planning.
Jitterbit as a Strategic HR Automation Enabler
Jitterbit understands that HR has changed dramatically in the last five years. Candidates and employees alike have more choice and can afford to expect more out of their prospective and current employers, both financially and emotionally. For this reason, we're partnering with companies to help them utilize their technology investments in the best possible way to keep prospective employees engaged, and keep current employees happy and productive. Jitterbit automates and integrates complex HRM systems, such as expense management, benefits management, payroll systems and specialized employee reward or wellness applications running on-premises or in the cloud.
Jitterbit's templates, for example, offer single, pre-built integrations that quickly move data in one direction between similar objects across two applications or systems. When it comes to onboarding and offboarding management within HR, Jitterbit's templates include: