By Sharvaani, Content Marketing Manager, Jitterbit
Greg Belkin, Director of Product Marketing, Jitterbit
That's a wrap! Jitterbit Integrate 2021 is officially in the books!
Jitterbit's annual virtual conference, Integrate, focused on best practices, industry trends, and new innovations in the technology integration and API industry. It was a record-breaking success! The event featured over 14 different educational sessions for over 1,300 global attendees, and was presented by 27 key industry pioneers and thought leaders from the digital integration and API connectivity space.
The central theme of the event this year was 'Thriving in a World of Digital Connectivity,' which focused on automating critical business processes, faster innovation strategies, and using API integration as a key competitive advantage for organizations. The event featured multiple real-world case studies in the sales and marketing, human resources, education, retail, and other verticals.
---
Integrate 2021 Keynote: David Linthichum and George Gallegos
This year's event was kicked off by a keynote address delivered by David Linthicum, the best-selling author and thought leader in the cloud computing and digital connectivity space. David's presentation focused on how top-performing organizations can maximize the value of their technology investments by thoughtfully embracing data integration strategies and using them as a key part of a highly competitive growth strategy.
David noted that while many companies want to embrace new technology organization-wide, few have maximized the value of these investments, either financially or logistically, due to a one-off, piecemeal-like approach to adoption. He suggested that tech-savvy organizations must ensure their investments are supported by a long-term strategic vision that improves the efficiency of the organization. Simply adding new technologies to address short-term challenges will only lead to long-term disappointment.
David's vision for the future of technology investments focused on what he termed as 'self-service integration technology', or the ability to connect applications, systems and data around day to day needs. This, he argued, is imperative in order to eradicate data silos and make businesses ultra-competitive.
David concluded by noting that Jitterbit is taking the complexity out of challenging, heterogeneous services by using API integrations to exchange information between various systems. "Leveraging technology to enhance customer experience", David noted, "is going to become a priority that new age entrepreneurs cannot afford to ignore."
George Gallegos, Jitterbit's CEO, followed David's presentation with a corporate update. He noted that, "despite the pandemic, Jitterbit has remained very successful at what we do because we continue to have the same singular focus we have had for the last 17 years."
George specifically called out Jitterbit's mission on helping companies unlock, access, and connect data, whether that data is located on-premises or in the cloud. The company has over 66,000 global users from all over the world, from companies with a 100 million in revenue to multiple billions in revenue and all the major industry segments. George also noted how numerous certifications and customer validations have helped Jitterbit become a leading integration technology provider in 2021. Watch the sessions here.
---
Jitterbit Marketplace Launch

Next, Jitterbit's SVP of Channels and Alliances, Ron Wastal, teamed up with Pradeep Kumar, Senior Manager of Product Management from BMC and Jay McBain, Principal Analyst at Forrester, to announce the release of Jitterbit Marketplace.
During the presentation, Jay McBain provided best-practice recommendations on successful paths to API integration success, and how to use API integration management as a key strategic enabler.
With these recommendations in mind, the conversation focused on Jitterbit Marketplace, a new solution and expertise marketplace where vendors can provide customers with Jitterbit-certified Application Connectors, Integration Recipes, Process Templates, and related delivery services.
This allows users to quickly implement API integration solutions. The Marketplace allows partners and customers to leverage development "factories" that can help build and certify new solutions in four to sixteen weeks, depending on the complexity of the solution.
"API integrations are historically done by vendors or solution consultants that code them as one-offs, but the new Jitterbit Marketplace changes that. We want our ecosystem to build on top of our platform and create repeatable integrations that benefit end-users.", commented Ron Wastal.
With regards to the marketplace, BMC has commented, "The partnership with Jitterbit provides our BMC Helix customers with industry-leading enterprise iPaaS integrations that allow them to easily customize processes with powerful AI-driven capabilities. Customers can take full advantage of these innovations as they continue their evolution toward being an Autonomous Digital Enterprise."
---
Employee Experience API360 Case Studies and Learning Sessions

In January 2021, Jitterbit announced the availability of Employee Experience API360, a set of solutions designed to simplify and accelerate human resource management. The goal of these solutions is to deliver a seamless consumer-grade experience to both employees and employers, from initial recruitment through offboarding and termination. In keeping with this effort, Integrate featured multiple sessions focused on this subject.
During a morning keynote, Tony Johnson, Chief Information Officer for Smart Circle International, presented a case study session called "Using Data Integration to Build Trust Among Trading Partners." In this session, Tony detailed how his organization developed an accurate, timely and effective sales performance reporting program between Smart Circle International and a host of independent sales companies. He also discussed how to ensure the effective flow of data between customer relationship management systems and performance reporting systems.
Tony also covered how to decrease day-to-day performance reporting burden on Smart Circle International's staff. He was also joined by Holger Mueller, Principal Analyst & VP, Constellation Research, and Greg Belkin, Senior Director of Product Marketing at Jitterbit, who covered key trends in the HR industry, and how to use data integration strategies as a strategic advantage.
During the afternoon, Dion Hincliffe, VP and Principal Analyst, Constellation Research and Greg Belkin teamed up to present "HR Data Management in the Age of COVID with Constellation Research". In this session, Dion provided case study examples, research results, and actionable recommendations for HR professionals to build an end-to-end data recruitment strategy from the initial interview through to the early stages of onboarding.
He also discussed how to interconnect multiple systems of HR recruitment data and related IT systems to accelerate productivity, and optimize the IT and HR relationship to create a more holistic, centered, and effective digital workplace. Finally, he outlined the capabilities and benefits of a best-in-class onboarding system.
---
Customer Experience API360 Case Studies and Learning Sessions

Jitterbit believes that customers expect seamless experiences throughout their entire journey, from processing orders to marketing communications to supporting tickets. Jitterbit also believes that connecting and automating disparate systems allows organizations to serve customers better, innovate faster, and build additional revenue streams.
To this end, Integrate featured multiple sessions focused on the customer experience. During a morning keynote session, Lindsey Shellman, Chief Commercial Officer at WIN (Web Integrated Network) Business Services was joined by Phillip Cruz, a Solutions Architect at MDVIP, and Carole Achramowicz, Senior Director of Product Marketing at Jitterbit to present "A Modern Approach to Delivering Customer 360".
The session focused on how WIN and MDVIP use API integration to power digital transformations and create real-time visibility and a 360-view of their business. It also focused on how organizations can quickly automate essential business processes.
---
Student Experience API360 Case Studies and Learning Sessions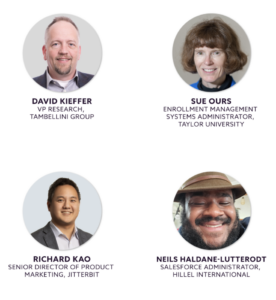 Jitterbit's take on the student experience is that universities and colleges require an appropriate framework for organizing and managing their data if they are to be successful in the long-term.
This includes information relating to prospects, students, faculty, and alumni information. Good data management practices provide for increased enrollment, satisfied employees and students, and increased alumni involvement and donations.
Dave Kieffer, VP of Research for Large Enterprise Systems at Tambellini Group partnered with Sue Ours, the Enrollment Management Systems Administrator at Taylor University, Neils Haldane-Lutterodt, the Salesforce Administrator, Hillel International and Richard Kao, Senior Director Product Marketing at Jitterbit to present "Strategies and Insights in Delivering Student 360 in 2021 & Beyond."
During the presentation, Kieffer shared the latest trends and strategies around how colleges and universities are building out their Student 360. Additionally, Ours detailed how Taylor University is automating their admissions and enrollment processes to enable their teams to be successful. Finally, Haldane-Lutterodt discussed how Hillel International automated the grant management process for their community.
---
Jitterbit Best Practice Learning Sessions
The launch of the Jitterbit Marketplace was just one of many sessions dedicated to best-practices. Other key sessions included:
---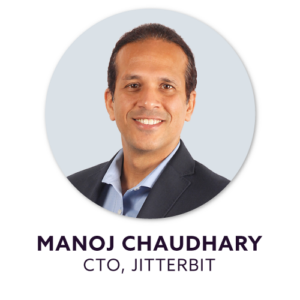 Jitterbit Harmony Platform Features and Enhancement Roundup by Manoj Chaudhary, CTO, Jitterbit. This session showcased valuable new features and capabilities available on the Jitterbit platform, including Cloud Studio, Connectivity, Harmony Cloud, and APIM enhancements.
---

How To Build a Cohesive Integration Strategy by Shekar Hariharan, Vice President Marketing at Jitterbit, Elina Shaknovsky, Senior Sales Engineer at Jitterbit, and Shankar Venkateswaran, Salesforce Developer for VanEck. This session provided key learnings on how to leverage a low-code integration platform that combines pre-built integration solutions with rich and deep platform capabilities. It detailed how to build custom connectors to any application, surface APIs from any data source and expose them as an integration project.
---

Virtual Meetup: Best Practices / Tips and Tricks / Ask an Expert by Jaime Delgado, Jitterbit Customer Success Manager, Mayank Bhasin, Customer Success Architect, Jitterbit and Philippe Turpault, Vice President of Customer Success, Jitterbit. This session was dedicated to understanding when to plan a Jitterbit solution health check, what it covers, and how conducting one can bring peace of mind prior to going live with your Jitterbit integration.
---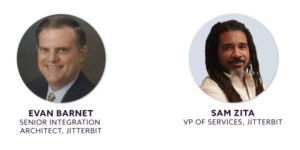 Building Scalable Projects with Cloud Studio by Evan Barnet, Senior Integration Architect, Jitterbit and Sam Zita, VP of Services, Jitterbit. During this session, Sam and Evan discussed how Jitterbit's drag-and-drop interface allows users to easily create, design, and manage scalable integration projects within Cloud Studio to orchestrate critical business processes.
---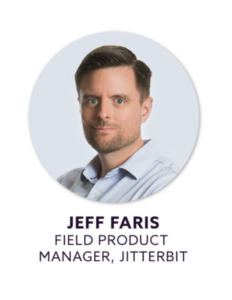 Using iPaaS to Drive Your API Connectivity Needs by Jeff Faris, Field Product Manager, Jitterbit. This session detailed how internal systems can be safely exposed as APIs in a few quick "clicks". Attendees watched Jeff demonstrate how to expose an integration as APIs through simple clicks versus coding from scratch.
---
All said, Jitterbit Integrate 2021 was an exciting and informative event for all attendees, no matter which vertical they came from, or what role they serve in their organization. It was an information-packed day filled with interactive sessions that showed attendees how to connect their data, applications, and processes to create the ultimate 360-degree view of their business, and use that connectivity as a key competitive advantage. Attendees:
Learned how to automate business workflows quickly via the Jitterbit Harmony API integration platform
Discovered how leading businesses are solving their most pressing integration challenges, and
Learned what industry pundits are predicting about how companies will digitally transform their business through API integration
Watch your favorite sessions on-demand here!