Applications
Experts in Workday Integration
Integrate Workday with other applications to enable a 360-degree view of your workforce


The Future is Now
The Future of HR Data Integration is Here
Workday is a robust provider of enterprise cloud applications for managing human resources, from recruitment to off-boarding. Yet, most companies also use other applications to support the management of their employees. To get the most out of Workday, you need to connect it to other applications and data sources. With years of experience building Workday integrations, Jitterbit has the expertise to provide you with integration solutions that enable your employees to be productive and satisfied over the long-term.
Case Study
Ultradent Worker API 360 Customer Case Study
Learn how Healthcare provider Ultradent reduced licensing costs and expedited employee time-to-productivity through the integration of applications around the Worker API 360 life cycle.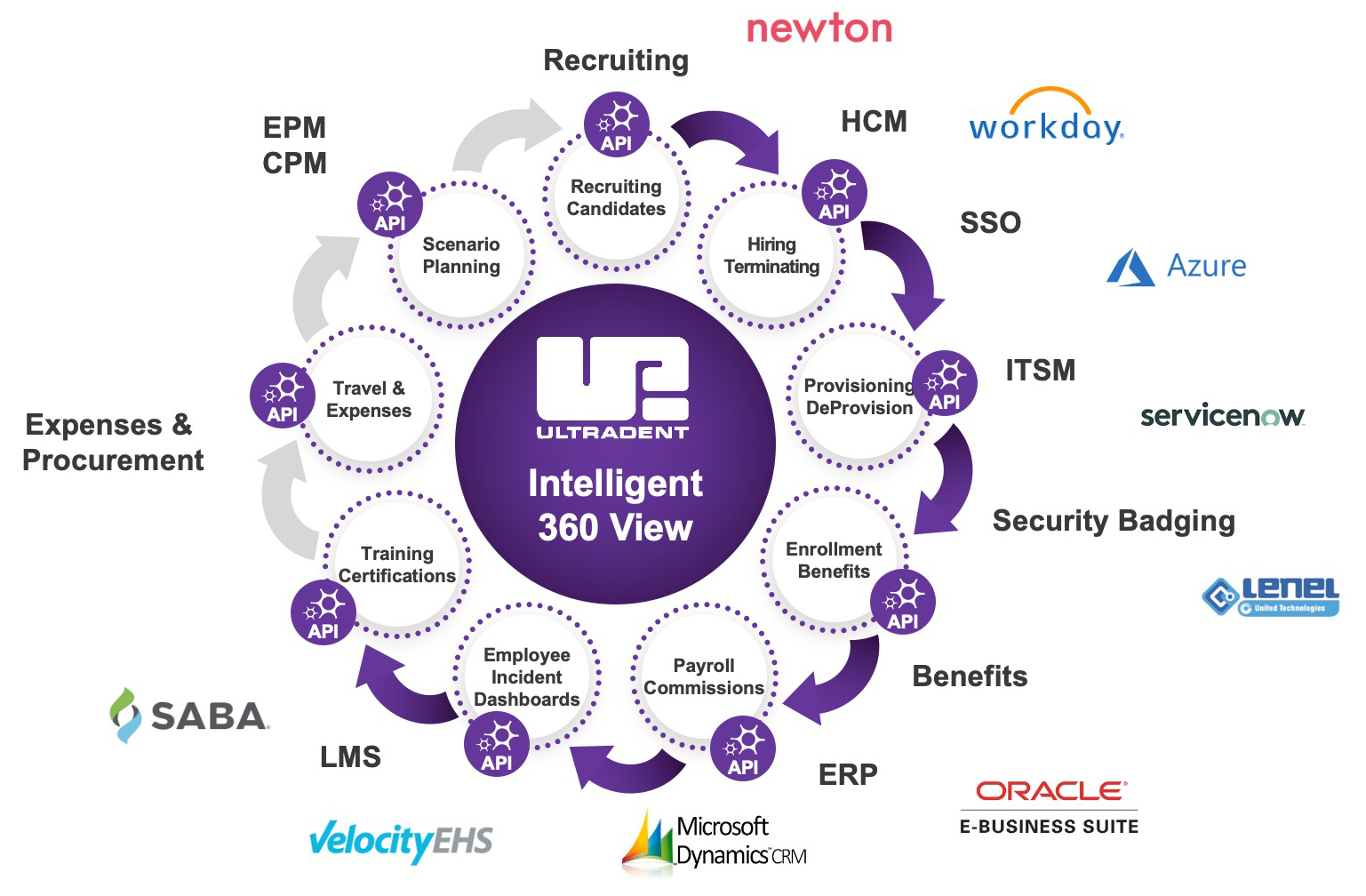 Videos
Automate Your Employee Data-Centric Workflows
See how quickly and easily integrations can be deployed
One iPaaS. Integration Solutions for All.
Our Workday integration solutions are built on an extensible integration platform as a service (iPaaS) that enables you to easily connect your SaaS, on-premises and cloud systems. Quickly automate your business processes and build your real-time integrations by using intuitive integration design tools, pre-built solutions, and an API management (APIM) suite. Jitterbit's integration platform helps companies get full visibility into the business driving greater efficiencies in your organization, and providing the flexibility to pivot to new business opportunities quickly.
Learn
Workday Integration FAQs
What is Workday integration and why you need it?
Workday integration refers to the process of integrating your Workday ERP with other systems, such as Recruiting Management, Human Capital Management (HCM), Service Management, Employee Incident Management etc. This enables a clear 360-degree view of your employee data that, in turn, optimizes the employee experience, and improves organizational efficiency.
Optimizing the workforce lifecycle, from recruitment through offboarding, requires insights from many different systems of record. HR managers need an easy, flexible, and holistic approach to accessing data and making informed decisions for the benefit of both the employee and the organization. This is especially so when it comes to achieving key organizational goals, such as:
Increasing Time to Productivity. When an employee first joins an organization, there are many different onboarding steps that require completion. A badge must be issued, as well as a computer, a physical workspace, and a communications device. Additionally, they must be provided access to expense reporting, training, and other systems. Completing these steps can be a daunting and time-consuming process because data is often managed in different, disconnected, and siloed systems. When HR managers and other stakeholders integrate and automate Workday with these other systems, they accelerate time to productivity for new employees, and free their managers and HR staff to address other critical issues.
Effectively Managing Compensation. There are many different factors that must be addressed every time an employee is paid. First, base salary and standard deductions must be calculated. Second, commission, expense reimbursement, and other adjustments must be made. In order to complete these steps, data from multiple financial management systems must be harmonized. By integrating Workday ERP systems and automating the data flow between these solutions, organizations save time and money, and remove the potential for human error at a very sensitive point in the employee-employer relationship.
Encouraging Employee Growth. Advanced training opportunities can benefit both employee and employer. Employees learn new skills that make them feel more valuable in the workplace, and simultaneously increase job satisfaction. At the same time, employers see an increase in productivity, growth potential, and retention. By integrating key learning management systems with Workday, the process can be carefully tied to employee performance, corporate goals, and other key considerations.
What are some of the most common use cases for Workday integration?
Workday integrations span many different use cases, most of which benefit both employer and employee at the same time. The end goal is not only to automate key HR-related processes, but also to establish a complete 360° view of employees (Employee 360) so they are motivated, empowered, and highly successful in their positions.
Here are just some examples of popular Workday Integration use cases:
Workday to Recruiting Management (ADP, iCIMS, Oracle SAP, etc.)
Workday to Human Capital Management systems (Ultimate Software, SAP Ceridian, etc.)
Workday to Service Management Systems (BMC, ServiceNow, Salesforce, etc.)
Workday to Benefits Management (Zenefits, Ceridian, Infor, etc.)
Workday to Compensation Management (ADP, HRSoft, Bamboo, etc.)
Workday to Employee Incident Management (VelocityEHS, LaborSoft, Gensuite, etc.)
Workday to travel and expenses (Concur, Coupa, Paycom, etc.)
Workday to learning management tools (Google, LinkedIn, Cornerstone etc.)
Here are some examples of key Workday integrations:
Onboarding and offboarding optimization. Connect Workday integration APIs with your existing talent acquisition vendor partners such as Salesforce and Oracle NetSuite to automate key onboarding and offboarding processes. This includes benefits, time off management and so much more. The end result is faster time to productivity for new employees, and a smooth offboarding process for departing personnel.
Expense management acceleration. Integrate your existing Workday integration APIs with Concur, Coupa, Paycom and others to make expense management easier for both employees and employers alike. Optimize expense account registration and report processing, and increase employee morale at the same time so you can focus on other critical requirements.
Asset Provisioning. Integrate Workday ERP solutions with ServiceNow, ServicePower and others to optimize provisioning support, schedule optimization, and other key service management imperatives. HR managers and other stakeholders get the right tools to the right employees in short order, reducing time to deploy for employees by 50-80%.
There are many Workday integration use-cases that pertain to specific verticals such as retail, manufacturing, food and beverage, restaurants and hospitality, and more. For example, there are specific instances of Workday tailored for retail that includes time and attendance, training, compensation, and more. There are also retail-specific applications such as Reflexis, TrackSmart, iqMetrix, and others that help facilitate this process.
The end goal of HR management is to optimize the employee experience for both their benefit, and for the organization. Employees are very similar to customers in that your business depends on a positive and honest relationship with them in order to be successful. By bringing key data together from multiple systems and automating it with Workday, employers can benefit from faster decision-making, which leads to increased time to productivity. At the same time, employees feel empowered to engage faster, which increases morale and decreases turnover.
The Jitterbit team has a wealth of expertise across many Workday integration use cases. Talk to one of our experts for the best plan of action for your Workday integration requirements.