Applications
Experts in Epicor Integration
Connect Epicor to other systems to create a 360° view of your product, customers, and supply chain


Integrate Epicor to Gain the Competitive Advantage
The pace of technological change, increasing customer expectations, supply chain instability, and labor shortages are challenging many businesses. Delivering the products customers want and the experiences they expect requires seamless operations and real-time visibility into each digital touchpoint at every stage. All too often data silos caused by disparate systems impede both.
Optimize your investment in Epicor and gain a more complete understanding of your business by using Jitterbit Harmony to integrate Epicor with your other systems. Our low-code integration platform for Epicor easily connects to any other on-premises or cloud-based system and automates workflows across a variety of critical functions, such as finance, employee onboarding, maintenance, procurement, and order fulfillment.
Automate Your Workflows with Jitterbit Harmony
Connect various applications and data sources using pre-built integrations for Epicor to sync and migrate customer, employee, product, and services data. By automating business processes, you can realize business value faster than ever before.
Automate Business Processes
Automation of key business processes is at the heart of the connectivity challenge. By connecting various applications and data sources using pre-built integrations to sync and migrate customer, employee, product, and services data, companies can automate business processes and realize business value faster than ever before.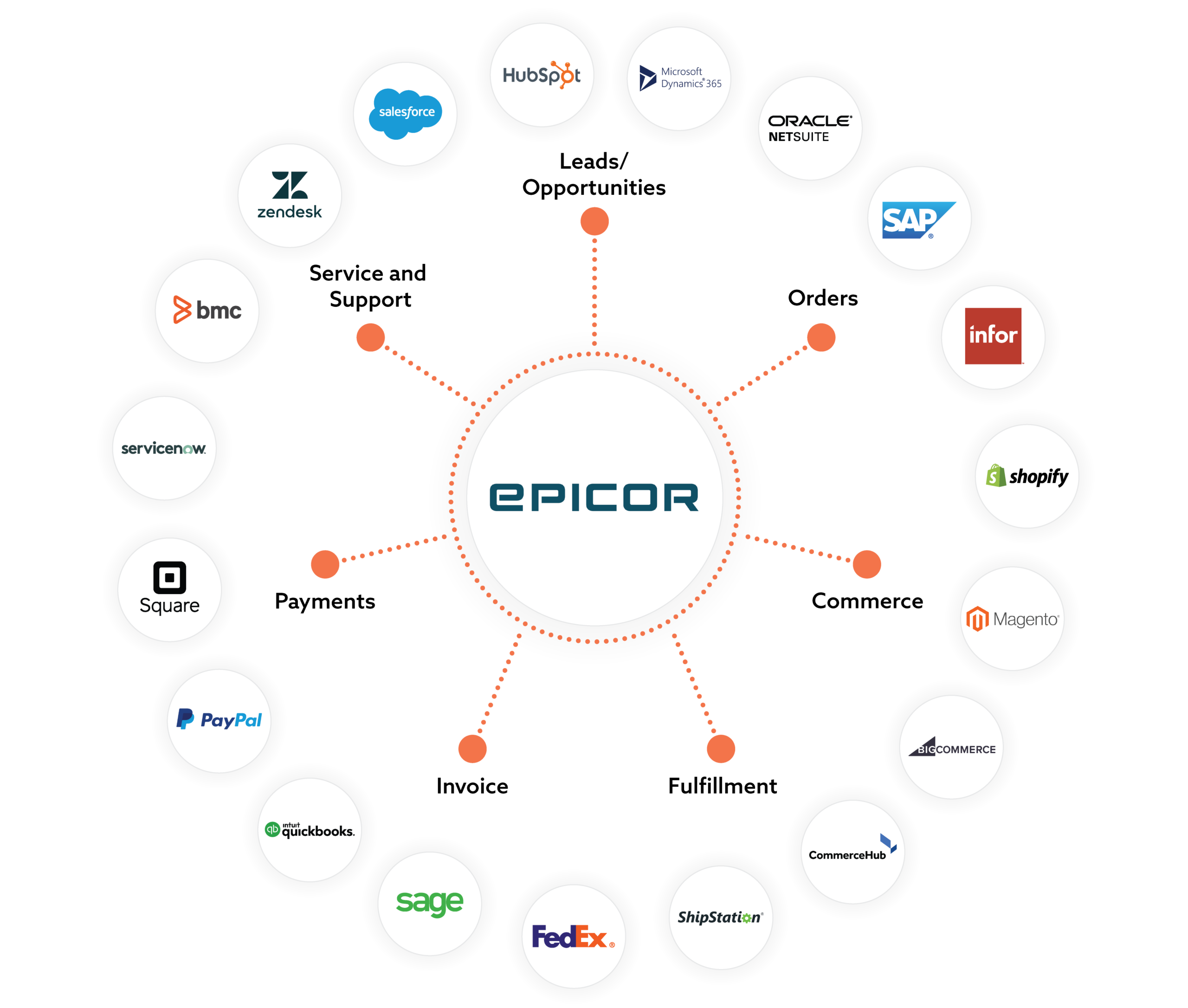 Lead to Revenue
Optimize customer engagement by connecting workflows throughout the customer buying cycle.
Order to Fulfillment
Build a connected customer experience by integrating Epicor to e-commerce systems.
Epicor Integrations Run Smoother with Jitterbit
Our Epicor product expertise is unmatched in the industry.
We have the longest track record of providing Epicor and its customers with integration solutions. Over the past many years, we've implemented hundreds of Epicor integrations for customers.
Epicor-specific integration solutions make your integrations smoother.
Our Epicor-specific recipes, templates and connectors make building your integrations easier and faster, up to 80% faster, with no trial and error. We have pre-built recipes that let you move data between Epicor and another application, such as Shopify, BigCommerce, Cherwell, Slack, and Hubspot, as well as templates that let you automate workflows, such as order to fulfillment and quote to cash.
One platform to support your integrations – from the simple to the complex.
Many companies start integrations with commonly used applications like Salesforce. Once they start, they realize the benefits of integrations and want to do more. As the number of applications integral to your business increases, so does the need for more integration. Many platforms are made either for simple integrations or for complex integrations. Ours is designed to help you with both.
Service and support experts for all your Epicor integration needs.
To get you up and running, we provide complimentary on-demand training with access to Jitterbit University. While customers are empowered to build and run their own integrations, they can also turn to our professional services team for expertise.
Realize the Benefits of Working with Jitterbit
By using Jitterbit Harmony and our expertise, every aspect of your business can be improved. Silos are eliminated. Manual, time-consuming processes are automated. Now, you have a single source of truth for your data, enhancing your ability to make better decisions. An added benefit is that integration and automation free up your resources and reduce costs.
Cut integration costs by up to 75%
Reduce process touch points by 90%
Achieve ROI in less than 1 year
Our Customers Recommend Us
The best place to get recommendations is through your peers. We are proud to say that 97% of enterprise customers recommend Jitterbit–far exceeding the industry average of 88%. Our customers also continuously rank us #1 on G2.
"The ease of setting up integrations has been fantastic. The support from the Jitterbit team is fantastic and they ensure that the product is performing the way we need it to."

---

Jeffrey Uy | Business System Analyst II, Tulsa Winch Group
Learn
Epicor Integration FAQs
What are some common Epicor integration use cases?
Epicor integrations span many different use cases, but the goal of each is to extend Epicor into many business processes to increase data accuracy, achieve process automation, achieve product 360-degree view, and improve overall efficiency. For example:
Automating Opportunity to Order. When sales opportunities close, orders need to be processed as efficiently and quickly as possible. Providing a seamless customer order experience requires integrating data and processes across your systems. When sales opportunities close in your CRM system, automatically creating sales orders in your ERP system helps reduce data entry errors and improve order accuracy.
Accelerating Order to Fulfillment. To create a smooth purchasing experience, you need visibility into the end-to-end customer journey. Orders must be exported from sales systems and fed into distribution systems. Shipment information needs to be relayed to the customer to follow their purchase delivery, and inventory needs to be updated instantaneously. Building exceptional customer experiences depends on the ability to capture, harness, and process data and insights across a complex landscape of applications.
Is Jitterbit embedded into Epicor?
Yes, Jitterbit is embedded in Epicor's line of product offerings, However, there are levels of "embedded". Epicor rebrands Jitterbit as "Epicor Integration Cloud" to their employees and customers today. They have SKUs in their price book for this offering, and they support the integrations.