Empowering Harmony platform users to rapidly build enterprise applications
and integration workflows that seamlessly integrate into their existing systems.
Jitterbit's App Builder provides easy-to-use drag-and-drop visual application creation and data integration management tools.
What You Get
Extend integrations and create enterprise applications for all relevant parts of the organization.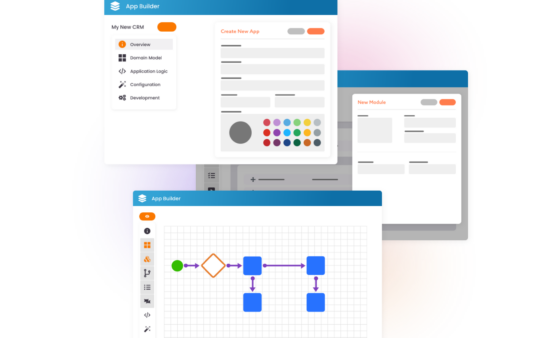 Create from anywhere
Build with an easy-to-use visual application builder with
no-code drag-and-drop functionality
Enjoy iterative application development, enabling you to update your app as you go, from any device
Utilize integrations already created in Harmony
Automate data workflows
Freely move data between the application and any API's exposed via Harmony
Tailor data flows based on criteria set by users or your organization's security needs
Enable clear reporting and insights via data aggregation
Customize and deploy
Tailor your app to your brand with an intuitive visual toolkit
Accelerate app development by 10x
Empower users to meet organizational needs while staying secure and compliant
Video
Introducing Jitterbit App Builder!
Video
Breakfast with an Executive: CTO Manoj Chaudhary
Video
Breakfast with an Executive: Robert Collins