Experts in Epicor Integration
Connect Epicor to other systems to create a 360° view of your product, customers, and supply chain.
Get a Demo today!
Connect
Connect Epicor to Your Other Applications to Gain the Competitive Advantage
Delivering the products customers want and the experiences they expect requires seamless operations and real-time visibility into each digital touchpoint at every stage. But all too often data silos caused by disparate systems impede both.
By using Jitterbit's Harmony to integrate Epicor with your other systems, you can optimize your investment and gain a complete view of your business. Our low-code integration platform easily connects Epicor to any other on-premises or cloud-based system and automates workflows across a variety of critical functions, such as marketing, finance, HR, procurement, and fulfillment.
Integrate
Epicor Integrations Run Smoother with Jitterbit
As a long-time partner of Epicor, our product expertise is unmatched in the industry. We have the longest track record of providing Epicor and its customers with integration solutions, having implemented hundreds of Epicor integrations for customers.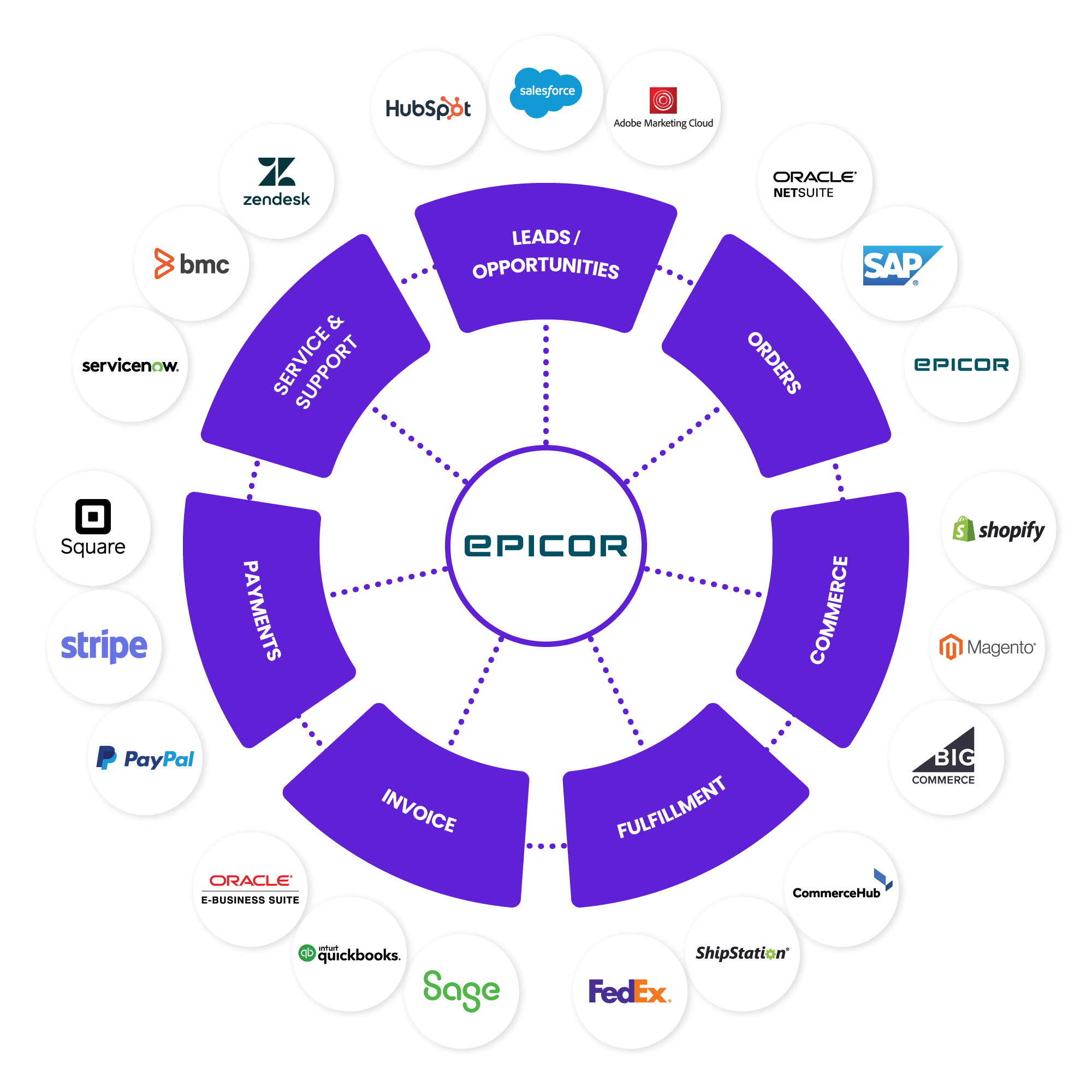 Pre-Built Recipes, Templates and Connectors
Our time-tested Epicor-specific solutions make your integrations smoother. From Epicor-specific recipes to templates to connectors, we make building your integrations easier and faster – up to 80% faster – with no trial and error. Our pre-built recipes let you move data between Epicor and another application, such as Shopify, BigCommerce, Cherwell, Slack, and HubSpot, while our templates let you automate workflows, such as order to fulfillment and quote to cash.
One Platform for the Simple and the Complex
Many companies start integrations with commonly used applications such as Salesforce. Once they start, they realize the benefits of integrations and want to do more. As the number of applications integral to your business increases, so does the need for more integration. Many platforms are made either for simple integrations or for complex integrations.
Harmony is designed to help you with both.
Expertise that Exceeds Expectations
Our service and support experts help you however you need. To get you up and running, we provide complimentary on-demand training with access to Jitterbit University. While customers are empowered to build and run their own integrations, they can also turn to our professional services team for expert guidance rooted in decades of experience.
Bottom-line, if you need help, we are going to provide it.
Trusted By Others
Thousands of industry leaders trust Jitterbit to drive business innovation
Jitterbit is a G2 Favorite
Recognized Integration for Global Leadership and Performance.
Excellence that Exceeds Expectations