Customer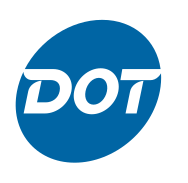 DOT Foods Success with Data Integration
Endpoints: Salesforce, DB2, SQL, Real-time APIs

Whether it's one row from Salesforce or three million rows going to Salesforce Jitterbit has become our go-to solution.
– Larry Easley
Background
Dot Foods is the largest foodservice redistribution company in the United States. It specializes in delivering over 120,000 food products from manufacturers to distributors. The company offers over 1,100 food industry manufacturers deliveries to 4,700 distributors in all 50 states and 39 countries. Dot consolidates products and delivers in less-than-truckload quantities to these distributors. In the process, Dot removes costs and complexities from the supply chain, helping to improve service for everyone. Founded in 1960, Dot Foods is a $6.2 billion company and one of the largest private enterprises in the United States. The company is headquartered in Mt. Sterling, Illinois. It has distribution centers in Modesto, California; Vidalia, Georgia; Burley, Idaho; Mt. Sterling, Illinois; Cambridge City, Indiana; Williamsport, Maryland; Liverpool, New York; Ardmore, Oklahoma; and Dyersburg, Tennessee.
Challenge
Legacy systems built on an earlier generation of IBM midrange computers created information silos. Essential data such as accounts, locations, contacts, customer communication preferences, and sales history were all caught on legacy technology first introduced over 40 years ago.
Before
AS/400 based custom coded systems
Data, processes, and systems fragmented
Difficult to support legacy infrastructure
Reporting slow and prone to inaccuracy
After
Package based solutions in the cloud
Unified and streamlined business processes
Third-party cloud infrastructure with world-class support
Single source of truth
'With Jitterbit, we can move large data sets to and from Salesforce easily, allowing our end users to get updated data quickly.'

– Larry Easley
Outcome
Legacy AS/400 applications were phased out without disrupting business operations. The cost of maintaining and enhancing systems supporting critical business processes dropped dramatically. Systems became more reliable and easier to support. Modern look and feel made the new solutions more natural to use. Using Jitterbit Harmony to convert data to the cloud was another essential step in Dot Foods' continual effort to remove cost and complexity from the supply chain.
Solution
Adopt an Enterprise Integration Platform based on Jitterbit Harmony to transfer data from legacy AS/400 proprietary systems to the cloud. A full-featured cloud integration platform that brings together data, apps, and devices without coding. Using Harmony, organizations like Dot Foods can quickly and easily orchestrate, automate, and integrate various applications, business processes, and data views. Jitterbit Harmony makes it easy to integrate your systems so you can focus on what you do best.