Customer

Highlights
Challenges
Manual processes led to missed opportunities
Siloed information systems made holistic view difficult to acquire
Lack of real-time data for shipment process
Duplicate data entry
Many APIs and moving parts to manage
Successes
API integration system makes managing hundreds of connections to WIN easy and automated
WIN clients receive 360-degree view of shipment process
Shippers and brokers are better able to leverage business opportunities
Onboarding time with WIN system dropped from months to weeks
Entire shipping network digitized on one system
ERP Integrations
Odyssey Delivers Real-time Transportation Management.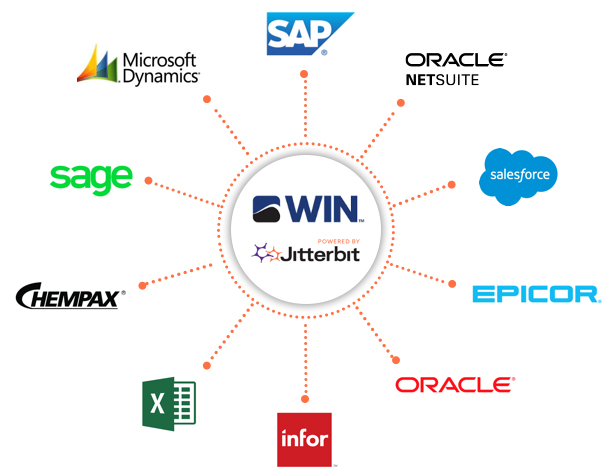 Imagine you are in the business of manufacturing and/or distributing widgets. If you are responsible for the shipping of those widgets, you understand how important the management of that freight is to your business. In an industry that is challenged by both driver shortages and tight trucking capacity, more and more shippers are relying on technology that can automate and simplify the shipping process.
Efficiently shipping your product while protecting your bottom line requires seamless integrations between your multiple different operating systems.
Enter Odyssey.
Odyssey's Web Integrated Network (WIN) is a browser-based transportation solution that allows shippers to manage all of their carrier relationships from a single platform. WIN includes carrier selection, rating, optimization, tendering/booking, tracking – all integrated with whatever ERP, WMS, CRM, etc. you use to manage your business today. All of your sales orders and purchase orders will automatically feed into WIN.
Rather than having to rely on multiple website visits, WIN will directly connect a shippers' incumbent network of carriers with the WIN network. Regardless of who the carrier is, WIN is your one-stop shop.
WIN also offers a Spot Quote tool, eliminating the mass e-mail requests for quotes. Through WIN Spot Quote, all of your carrier quotes are captured and stored in a single system that you can finally report off of.
In addition to benefiting shippers, both Asset Carriers and Brokers will also benefit from WIN. Each carrier is provided a private portal that they can use to prevent anything from falling between the cracks. It is easy to miss a quote when you are working out of email, so WIN provides an intuitive dashboard with intelligent reporting – supporting better carrier customer service.
Jitterbit makes Integrating Easy
With more than 600 clients operating on more than 75 different ERPs, WIN must quickly and easily integrate with multiple disparate systems. To make that integration easy, WIN partnered with Jitterbit. Jitterbit integrates internal operating systems via the installation of an agent on a company's server. This installation requires minimal involvement from IT teams and reassures clients that their systems' data will not be compromised.
Finally, executing and managing orders is streamlined. For the WIN clients, Jitterbit's API integration platform connects back-office applications with WIN, in real-time. This flexible connector makes creating new APIs quick and easy, relying on Jitterbit to do all of the heavy lifting.
Jitterbit Enables Real-Time Automation
Jitterbit is also used to automate the onboarding of new WIN clients. Credit checks, credit approvals, carrier API connection setups are all automated, if you use WIN.
When a client registers with WIN, all of their customized configurations are migrated over automatically through an order send and receive API. This means that product lists, shipping origins/destinations and equipment types are all brought into WIN in real time. If a client makes a change in their ERP system, that change is automatically reflected in their WIN environment, in real-time.
Additionally, Jitterbit's API integrations streamline the broker-shipper relationship. When brokers submit quotes, WIN automatically alerts those shippers without them having to constantly monitor their email. This allows brokers to quickly respond to requests, and shippers to easily react to the quote of their choosing.
WIN + Jitterbit = Complete, Global View of Shipping Process
Setting up APIs through Jitterbit takes hours not days, providing an expedited deployment. Shippers connect to WIN, WIN connects to carriers/brokers, and the systems on either side of the transaction interact, process transactions and update.
Before implementing the Jitterbit API integration engine, WIN clients would manually run reports using Excel on a monthly basis. Shippers might miss notifications about broker quotes and either side would have to maintain a variety of systems just to keep track of a shipment. Today, through WIN, when a transaction is completed, the relevant information automatically transfers to all entities involved, in real time.
WIN's Jitterbit story is about speed and agility. It's about digitizing processes on all sides of the logistics puzzle so that everyone involved can focus on relationships and transactions rather than their IT platforms.
As a manufacturing company who produces, sells and ships widgets, it can be difficult to monitor the various processes, especially if manual processes are involved. Jitterbit provides WIN clients with real-time visibility into order statuses, carrier selection, tracking visibility, network capacity, and a whole host of other data points that enable efficient operations and effective forecasting.
Jitterbit allows WIN to be the centralized, seamless digital transportation management solution, without the hassles of manual processes that plague so many organizations today.
"Jitterbit's API integration platform is the engine that powers Odyssey's Web Integrated Network (WIN) system. The platform connects our clients' back-office applications to WIN in real-time through hundreds of APIs that can be created easily and quickly. Thanks to Jitterbit, our clients receive a 360-degree view of shipment process through a system that provides one location for shippers to do everything from select a carrier, simplify shipment processing, communicate with customers, and integrate existing enterprise resource planning systems (ERPs)."

– Russell Marky, Chief Executive Officer, WIN Business Services