Customer

ERP Integrations
Sunkist Uses Jitterbit's Low-Code Integration Tool
Deploying the Jitterbit Harmony platform, Sunkist Growers connects a legacy sales and distribution application with a new enterprise resource planning (ERP) system
Background
Sunkist Growers is the country's longest-standing agricultural cooperative entirely owned by and operated for West Coast citrus growers. For more than 125 years, Sunkist has empowered thousands of individual farmers to grow, market, and distribute over 40 types of fresh citrus internationally. Members of the Sunkist cooperative are located throughout California and Arizona, allowing them to provide a consistent supply of quality fresh fruit year-round.
Summary
Moving from an Oracle Financials system to a new ERP application, Sunkist sought a web-based integration solution to connect Kirkey, its sales and distribution platform.
Rapidly deploying Harmony, Jitterbit's low-code integration platform, the company established a flexible integration layer that manages transactions between its ERP and Kirkey applications.
With Harmony, Sunkist eliminated the need for complex custom coding efforts; now, the organization can rely on simple and easy-to-manage integration technology to connect its enterprise applications.
Challenge
Seeking a robust low-code integration platform to replace complex custom coding
When Sunkist transitioned from its Oracle Financials system to the Microsoft Navision ERP application, the company needed to replace the numerous programs and scripts previously used to connect the Oracle environment with its AS400-based sales and distribution system, Kirkey.
Instead of relying on complex custom coding efforts to integrate its applications, Sunkist sought a robust, web-based solution. Additionally, the organization needed a platform that would be fast and easy to install, with minimal disruption to its operations.
Solution
Integrating legacy IT with new ERP capabilities
As part of its vendor selection process, Sunkist launched a detailed benchmark analysis of seven vendors that offer integration Platform as a Service (iPaaS), including Jitterbit's Harmony platform.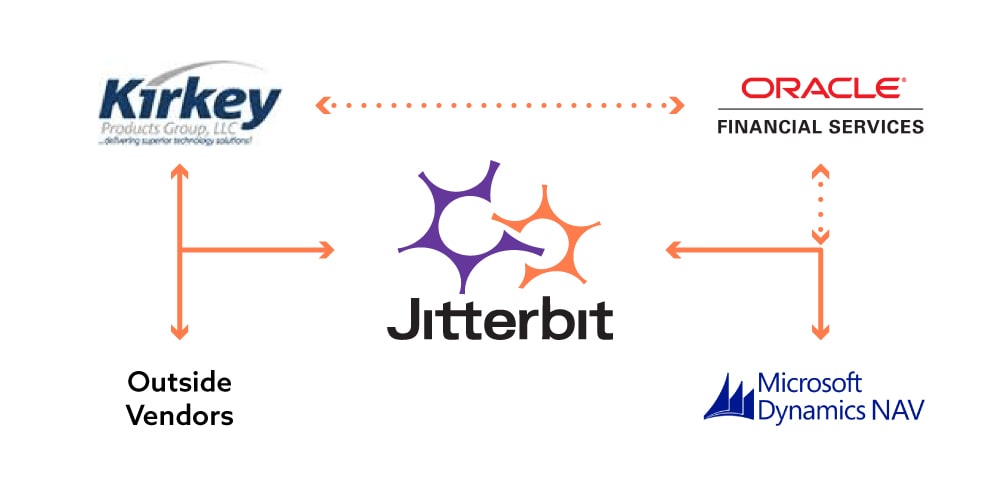 Jitterbit's polished suite of tools stood out from the competition during hands-on testing. "We chose Jitterbit because it really hit the sweet spot for highly evolved functionality while being easy to adopt and support," says Alan Kenworthy, Director of IT at Sunkist.
In addition to offering a fully integrated process flow engine and versatile data mapping functionality, Harmony provides Sunkist with a highly evolved rules engine that allows the organization to leverage the Navision ERP application's business rules.
"The beauty of this is not having to code those rules and leaving Jitterbit to manage the rules required to get external data into the form Navision needs," says Kenworthy.
The Jitterbit Harmony platform serves as a flexible, scalable integration layer managing transactions between Sunkist's Navision and Kirkey systems while also providing an external vendor with secure access to the Kirkey application.
Benefits
Sunkist Growers launched ERP system with Jitterbit in a matter of days
With Jitterbit's iPaaS platform, Sunkist performed a fast, seamless solution implementation without interrupting business operations. "We were able to get Jitterbit up and test interfaces in a matter of days," says Kenworthy. "And there is only one person managing our integrations."
By deploying this integration platform, Sunkist has eliminated the need for lengthy and complex coding efforts; now, the company can rely on a simple and easy-to-manage integration layer to connect its enterprise applications.
"Jitterbit supports our core functional needs in a cost-effective suite that is easy to use and always just works," says Kenworthy.
Based on its initial success, Sunkist will expand its use of Harmony, adopting it as the standard tool for integration projects.