eBridge Connections secured a seamless migration from Magento 1 to Magento 2 for long standing customer Everlast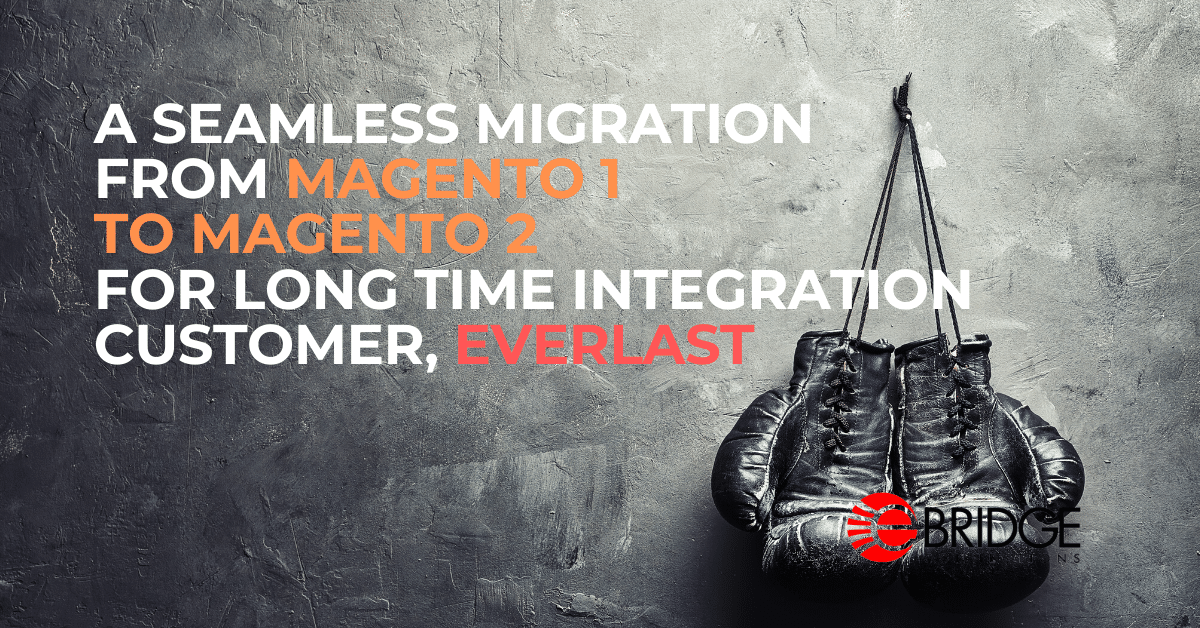 Everlast has been a valued customer of eBridge Connections for many years now. The original project we completed together was a seamless sales order data integration between Everlast's ERP which is Microsoft Dynamics AX, to their e-commerce store, which was Magento 1 at the time. Since then, we've been moving orders back and forth from their ERP to their e-commerce site, to save them more time daily.
Everlast prepared to shift from Magento 1 to Magento 2
Magento, who was recently acquired by Adobe, has spent considerable time and effort getting the latest version of their leading and exceptional e-commerce platform up and ready, Magento 2. Some have estimated that 1 in every 4 businesses already use Magento 1 although it will be ending support around June 2020. There are important advances and functions in Magento 2 that enticed merchants and suppliers to invest in migration, rather than switch from their e-commerce platforms entirely. Everlast was one of them.
FEATURES OF MAGENTO 2:
Open and flexible architecture for the enterprise
Engaging shopping experiences
Enhanced business agility and productivity
Enterprise-grade scalability and performance
50% faster
Easier maintenance and upgrades
EBRIDGE ENSURED A SMOOTH TRANSITION FOR EVERLAST
Everlast was proactive in their approach to transition from Magento 1 to Magento 2 and reached out to us at eBridge Connections, fast. Since Magento 1 is ending their support in June 2020 there is limited time for business to inquire about migrating. Everlast was looking forward to the improvements of Magento 2 but were also worried about disrupting their business processes. However, there are risks associated with businesses not transitioning such as service interruptions and loss of sales. Not to mention having to deal with these issues in-house, or through a 3rd party at a heavy cost. In that case Everlast agreed that a migration from Magento 1 to Magento 2 would be the most cost effective and seamless option.
THE CROSS-TEAM MIGRATION AND INTEGRATION TAKES FLIGHT
You can imagine that a largescale system migration is not done by one team, or in a silo. Many teams, including the team at Everlast, the team at eBridge Connections and the website manager at Everlast worked in tandem. Everyone exchanged vital information to set up connections and addressed the required data flows for integration.
Migration is not easy, and integration is difficult. The good news: the team at eBridge Connections have seen 25+ years of data integrations. While you don't always know the challenges you are going to encounter, eBridge is excellent at braving obstacles and finding solutions to problems. With reckless ambition, the team worked against timelines to get the job done.
[eBridge] has been AMAZING and very thorough…once the project was kicked off, eBridge has been great!
– Olivia Williamson | Everlast
EVERLAST'S MICROSOFT DYNAMICS AX TO MAGENTO 2 IS LIVE
Today, Everlast has 3 live workflows flowing fresh data in near-real time:
Orders from Magento 2 to AX
Inventory from AX to Magento 2
Shipments from AX to Magento
AUTOMATING MANUAL ORDERS, INVENTORY AND SHIPMENT DATA HELPS BUSINESSES TREMENDOUSLY
Throughout the entire migration process it was evident that nothing was more important to Everlast than the satisfaction of their customers. By automating data, it helps to free businesses from error and saves them time daily. Instead of manually entering customer orders, Everlast relies on the workflows built between Microsoft Dynamics AX and Magento 2 to correctly flow data such as orders, shipments and inventory.
About eBridge Connections: eBridge Connections' universal integration-Platform-as-a-Service (iPaaS) is trusted by hundreds of businesses selling online and in-store. eBridge's prebuilt connectors – including e-commerce, EDI and ERP connectors like Amazon, Shopify, Magento, Sage, NetSuite, SAP, Microsoft – hook into the platform, flowing order, shipment, inventory, product and customer data bi-directionally between their systems, to save time and reduce errors.
---
Discover How You Can Unite Your Commerce Network With eBridge
Use our Blueprint Builder to map out your ideal integrated commerce network. Not curious where to start? Book a demo today with an expert and discover how eBridge can help.