Lillywhite will spearhead the continued growth and expansion of the company's presence in the region
---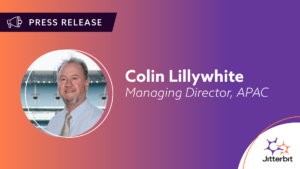 Alameda, Calif., April 20, 2022 — Jitterbit, the API transformation company, today announced it has named Colin Lillywhite the managing director of the Asia-Pacific (APAC) region. In this role, he will report to George Gallegos, CEO of Jitterbit, and will be responsible for leading the company's go-to-market strategy and operations in the region. Lillywhite succeeds Andrew Henderson, who has been appointed as an advisor.
"The rise in adoption of cloud solutions combined with the need to digitally transform is creating an increased demand for integration platforms in APAC. We see the region as a major play for Jitterbit," said Gallegos. "Colin has the experience needed to ensure we capitalize on the market opportunity and deliver for our customers and partners."
Lillywhite brings 25 years of senior management experience working in countries, such as Australia, New Zealand and Singapore. Prior to Jitterbit, he served as the executive director of Conquest Software, an IT Services and IT consulting business in Australia and New Zealand. He also has held senior leadership roles at several software companies, including Civica Group PLC, a public organization in the U.K., where he successfully led and strategically developed the APAC business to achieve a market-leading position.
"I'm thrilled to be joining Jitterbit at a time where rapid growth is happening on both a regional and global scale," said Lillywhite. "I look forward to working closely with customers and partners to bring them innovative solutions that accelerate their digital transformations and make their businesses run better."
About Jitterbit, Inc.
Jitterbit, the API transformation company, makes it quicker and easier for businesses to exploit data from any source, empowering them to rapidly innovate and make faster, more effective decisions. The Jitterbit API integration and low-code application development platform enables companies to quickly create and connect SaaS, on-premise, and cloud applications and instantly infuse intelligence into any business process. To learn more, visit www.jitterbit.com and follow us on LinkedIn or @Jitterbit on Twitter. 
Contact: