Applications
A Leader in Coupa Integration
Connect Coupa to your other applications to create a 360 degree view of your business spend and procurement pipeline.

Why Automate
Streamline your procurement and business spend processes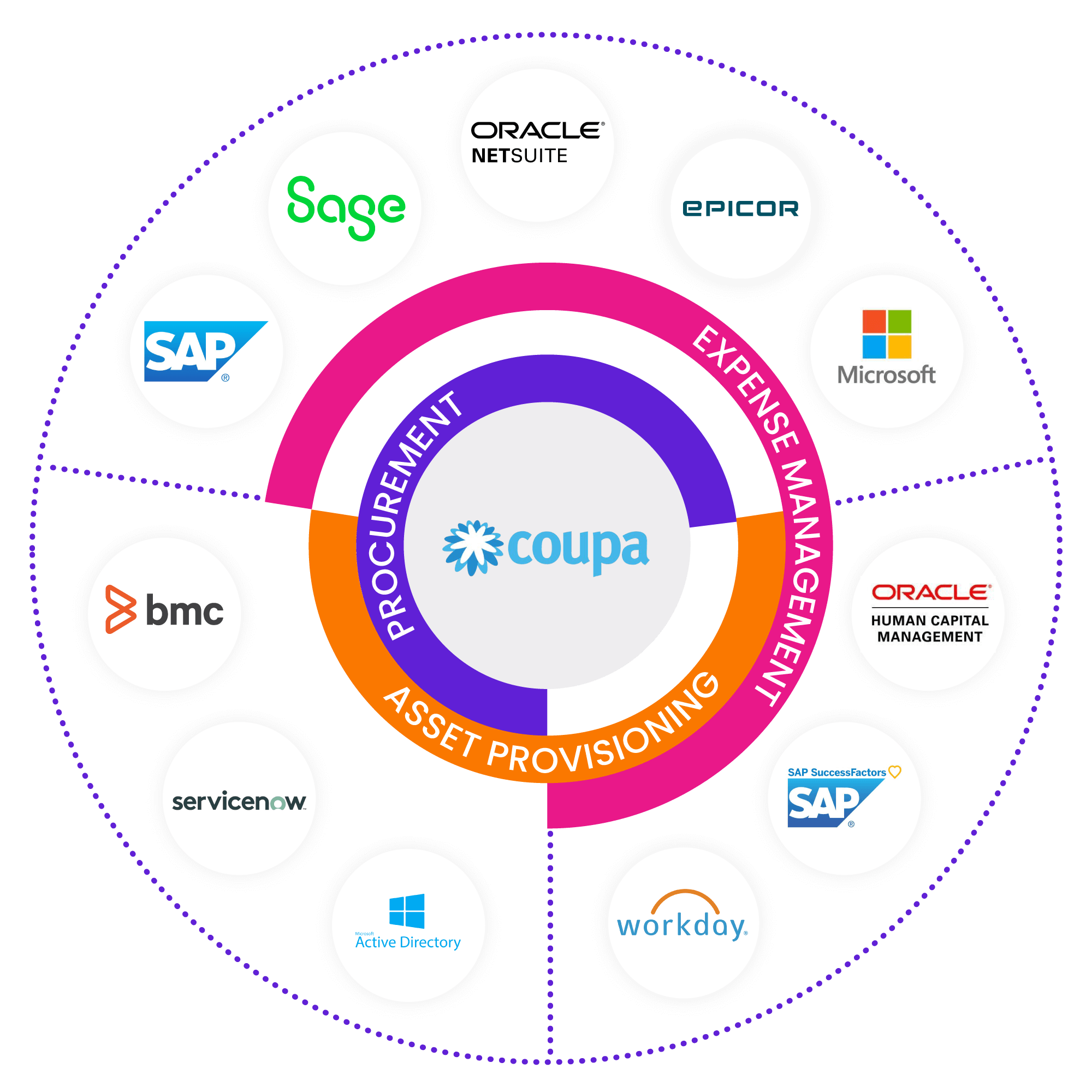 Automate the procure-to-pay process
Automate your procure-to-pay (P2P) process end-to-end by integrating data and workflows between Coupa and your ERP or IT Service Management platform. Deliver a seamless experience for employees and suppliers by eliminating manual data entry and accelerating P2P across the business.
Streamline expense management
Streamline your entire employee expense management process from submission and approval to tracking and reporting. Sync expense details across platforms for enhanced spend visibility. Increase employee satisfaction by expediting the expense submission, approval, and payment process through automation.
Simplify asset provisioning for employees
Help employees quickly get the resources and services they need by automating the process of purchasing and provisioning assets, from laptops and phones to software licenses and access to internal systems. Reduce errors, increase efficiencies, and improve the overall employee experience all while controlling spend and ensuring compliance.
How to get ahead
Get started with pre-built Coupa integration accelerators
Integrating your applications can be a chore, but it doesn't have to be. Leverage our proven accelerators to speed your integration journey. Designed with our customers in mind, our pre-built templates connect Coupa to popular endpoints, so you can quickly orchestrate complex data integrations and automate critical business spend processes. Visit the Jitterbit Marketplace to see a full list of available connectors and integration accelerators.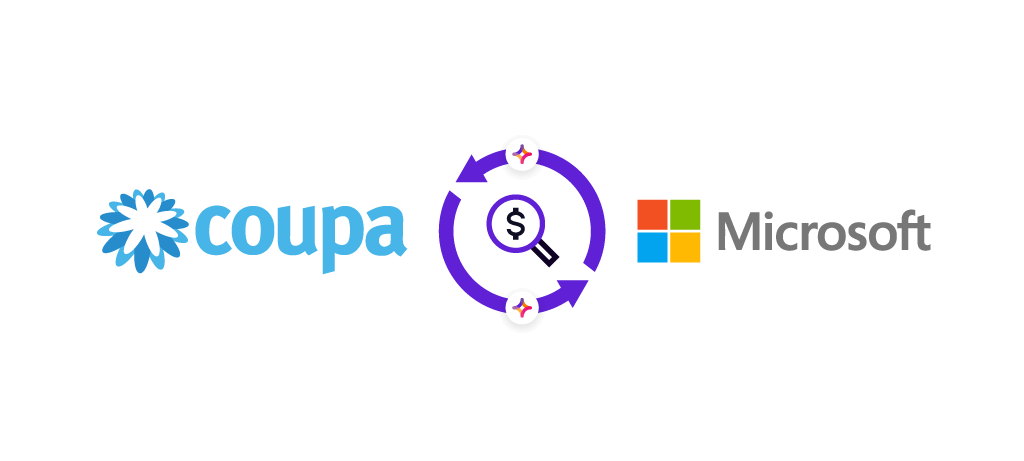 Enhance Spend Visibility
Integrate core data workflows to increase visibility across your business spend. Enable increased spend control, improved compliance, and real-time decision-making.
This automation template helps you quickly synchronize master data such as Employees, Users, Accounts, Vendors, Suppliers, Cost Centers, and Departments between Coupa and Microsoft Dynamics 365.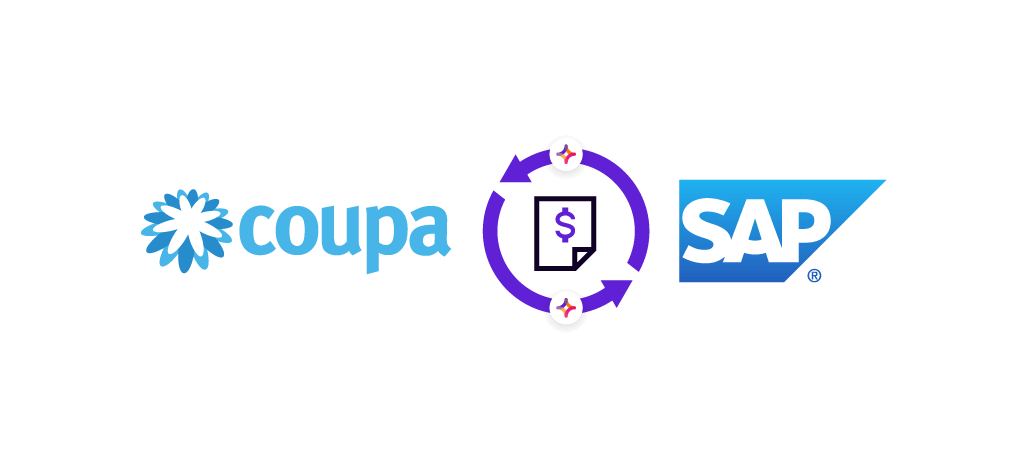 Automate Invoice & Payments
Drive greater efficiencies with automated invoices and supplier payments.
This pre-built template reduces custom coding and speeds automatic connections to commonly used Invoice and Payment objects between Coupa and SAP.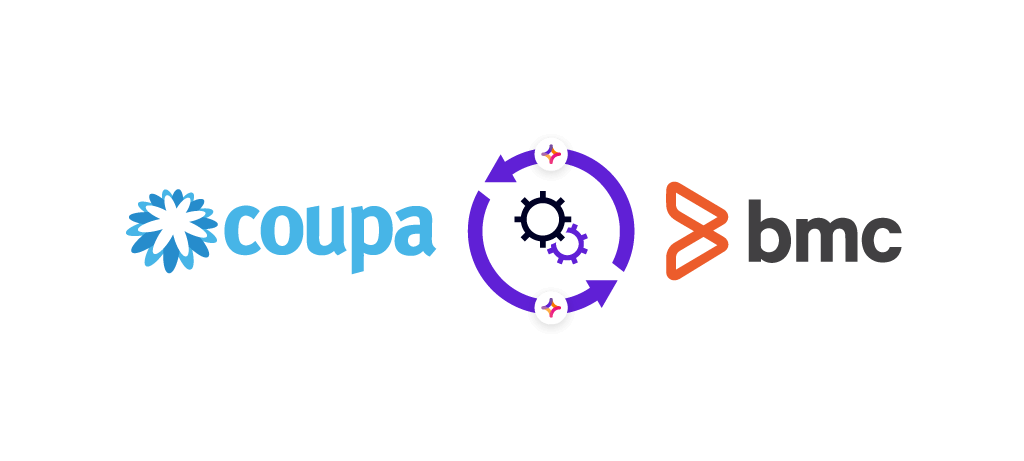 Simplify Purchase Requisitions
Easily create Coupa purchase orders and requisitions from BMC Helix Digital Workplace requests.
This pre-built template simplifies integration and automates workflows and data synchronization between Coupa and BMC Helix.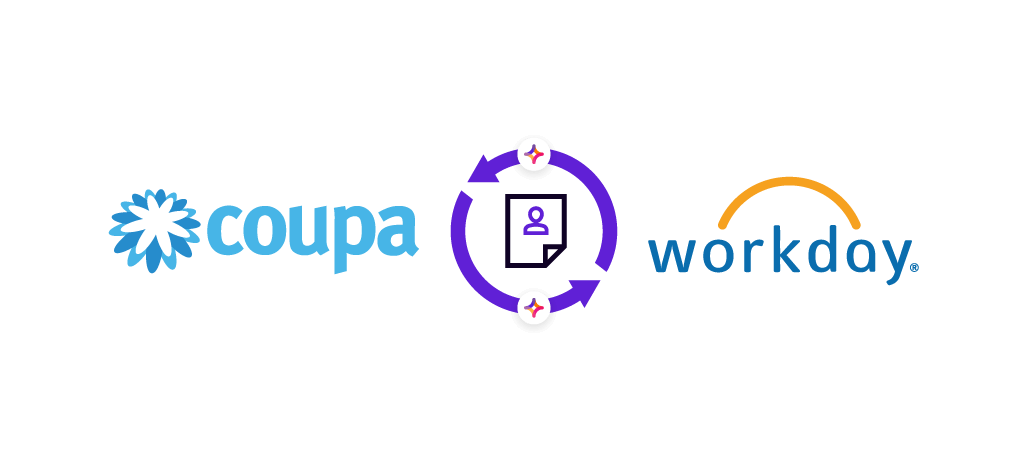 Streamline Employee Expense Management
Increase productivity for HR stakeholders by streamlining key expense processes. Increase employee satisfaction and morale by accelerating time to pay.
This automation template quickly syncs Worker, Expense Item, Cost Center, and Expense Report objects in Workday with equivalent objects in Coupa.
Trusted By Others
More than 2,500 companies rely on Jitterbit to drive innovation
Related Resources
Learn More About Coupa Integration Success
Have Questions?
Coupa Integration FAQs
Why integrate and automate Coupa with your other systems?
Coupa is a cloud-based business spend management (BSM) application that helps businesses establish company-wide procurement, invoicing, and expense management processes. Most companies couple BSM applications with platforms like ITSM, ERP, HCM, accounting systems, etc. to fully optimize and manage these processes. But with all these applications, it's crucial to integrate and connect the disparate data sources to maximize the value of Coupa. By integrating critical systems with Coupa, companies can:
Drive greater efficiencies and cost savings: Automatically synchronizing the data in disparate systems helps expedite and streamline processes, such as procure-to-pay, employee expense management, and asset provisioning. Access a 360 degree view of all spending across your organization to identify areas to optimize or reduce spend. Increase productivity and cost savings, empower happier employees and suppliers, and eliminate data silos with a single source of truth.
Make smarter decisions: Integration empowers real-time spend analysis and decision-making by ensuring automatic data consistency across applications. Improved data accuracy enables smarter forecasting and increases opportunities to negotiate better supplier terms.
Increase spend control and compliance: Connecting Coupa with your other applications can automate spend controls and increase compliance with company policies. Not only can all spending be analyzed in real-time, but businesses can enable more effective enforcement of policies by automating approvals and routing based on specific business rules and policies. Reduce the risk of fraud and non-compliance.
Why choose Jitterbit for your Coupa integration?
Jitterbit is a CoupaLink Technology Partner; you can find us on the Coupa App Marketplace. With years of experience solving automation problems, Jitterbit and our community of certified partners can help you achieve fast time-to-value and drive greater efficiencies in your organization.
Jitterbit Harmony is a unified platform for connecting and automating disparate systems, providing powerful Coupa API integration tools that make it fast and easy to connect data and business flows between Coupa and any on-premesis, SaaS, or cloud application. Businesses choose Jitterbit for Coupa integration for our:
Speed: Most of our customers are up and running with their first integration in less than 30 days. But it doesn't end there. Your business is adding new technology all the time. It's not only about how quickly you develop your first integration but also how fast you can connect the next one. Jitterbit has a robust toolkit that shortens integration time and provides standardization of integrations and the reusability of code.
Simplicity: Jitterbit customers are up and running quickly because our platform is simple and designed for the technical business analyst. The graphical "clicks not code" approach, pre-built Coupa Connector, Recipes and Templates, and modern cloud platform simplify the design, deployment, and management of Coupa automation projects.
Trust: No matter how complex or straightforward your Coupa integration is, our team of experts is on hand to help you every step of the way. We're #1 in overall ratings on G2 and have been in the Gartner Enterprise iPaaS Magic Quadrant 9 years in a row.