By Nathan Bacnik, Global Director, Strategic Alliances
Weiwei Wen, Sr. Partner Marketing Manager
---
Coupling workflow automation with a Business Spend Management (BSM) platform like Coupa reduces costs, improves supplier relations, and accelerates ROI.
With talks of a potential recession this year, business leaders everywhere are strategizing ways to gain better visibility across spend and track the ROI of different investments and activities – especially within the procure-to-pay (P2P) lifecycle.
P2P involves all the processes, stakeholders, and applications an organization uses to identify, procure, and pay for the goods and services they need to do business. Due to the number of people, processes, and applications involved, the P2P lifecycle is often labor-intensive and riddled with process gaps.
By nature, business leaders require more access and control into this process during times of recession. But having end-to-end visibility across business spend is something that benefits organizations indefinitely – not just during times of economic uncertainty.
According to the Association of Certified Fraud Examiners (ACFE), organizations worldwide lose an estimated 5% of their revenues to fraud, totaling nearly $3.7 trillion. Among 1,388 cases of occupational fraud (including procurement fraud) that were studied by the ACFE, the medium loss was $140,000, with more than 20% of these cases resulting in losses of at least $1 million.
This data reinforces just how crucial it is for procurement and finance leaders to have a streamlined, organized, and highly visible P2P process to manage risks, protect against fraud, and maintain compliance.
Understanding the process is the first step to getting ahead of the risks.
What does a common P2P process look like?
A typical end-to-end procurement process begins with a purchase requisition and ends with accounts payable.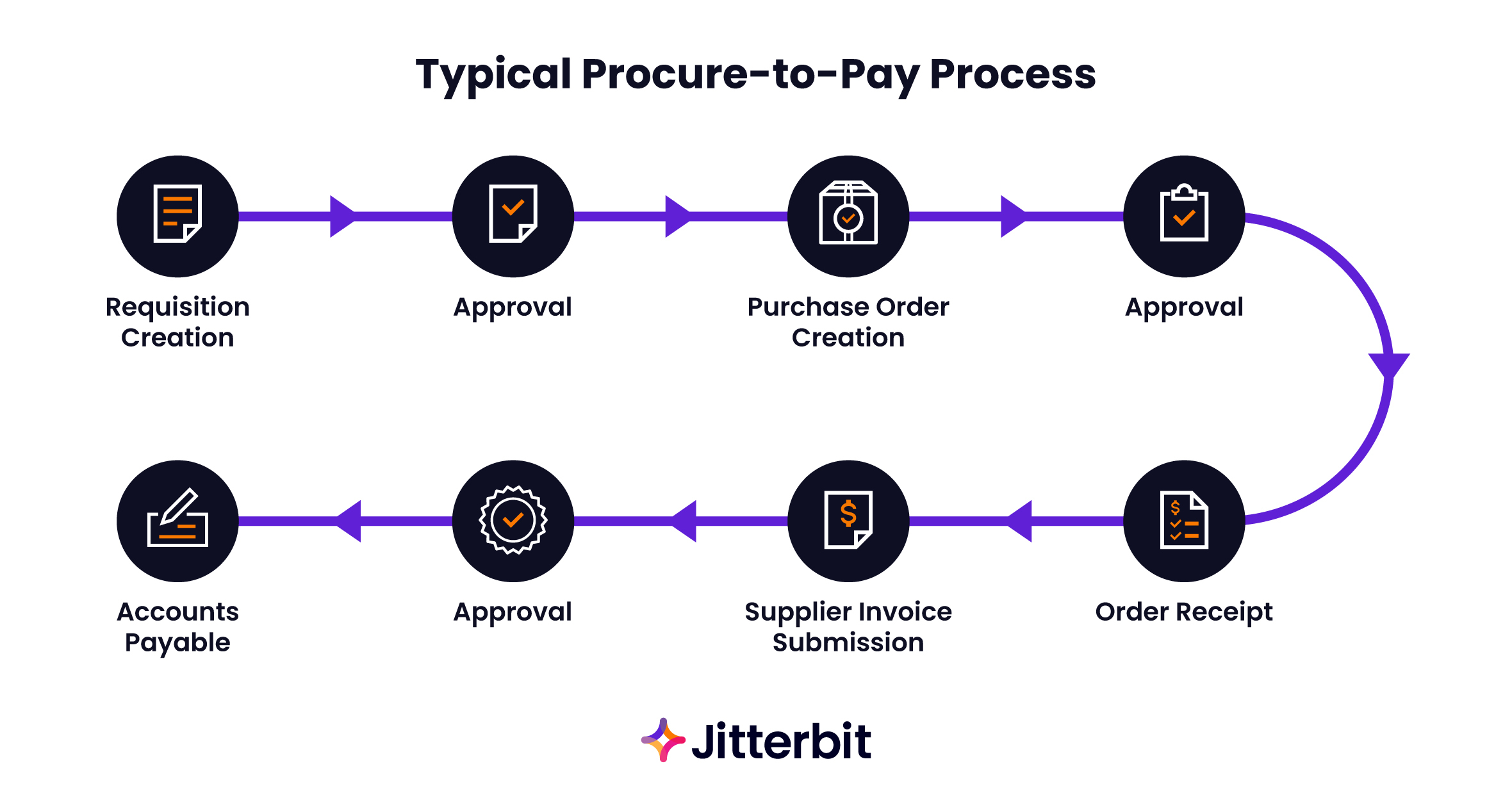 Requisition Creation & Approval: An employee or department submits a purchase requisition for a product or service they need. This request then gets routed through the appropriate authorities for approval.
Purchase Order (PO) Creation & Approval: Once the requisition is approved, a purchase order is then created, detailing the order specifications and total costs, and submitted for internal approval. An approved PO is then sent to the vendor or supplier for review and confirmation, and a contract is created.
Order Receipt: Next, the supplier delivers the goods or services as requested. Products are inspected to ensure they meet contract terms.
Supplier Invoice Submission & Approval: Once the order is delivered or the service is rendered, the supplier submits an invoice for payment. The invoice is reviewed against the PO and order receipt for any discrepancies. If there are no issues, it is approved.
Accounts Payable: An approved invoice is routed to Finance for payment based on the contract's terms.
When done manually, this multi-step process is cumbersome and unsustainable if you plan to scale operations in the long-term. As a result, a quicker, less manual approach is needed.
A modern approach to P2P starts with the right technology toolkit.
Digitizing and automating tedious, manual tasks and bottlenecks in the P2P process reduces costs, streamlines operations, and accelerates ROI.
First, choose a BSM tool with SaaS procurement software such as from our partner, Coupa, that digitizes the entire P2P process and eliminates physical paperwork. By leveraging a platform like Coupa, procurement and finance leaders can also automate internal approval requests for payments and easily manage invoices.
For smaller organizations, this may be all the automation that is needed. But for larger organizations with hundreds or thousands of employees, P2P applications and stakeholders proliferate fast, making it nearly impossible to rely on procurement software alone.
In larger organizations, employees can initiate a purchase requisition via their ITSM system, such as BMC or ServiceNow, or from their ERP system, such as SAP, NetSuite, or Microsoft Dynamics 365. With Coupa or another similar platform in place, the requisition approval process, purchase orders, and invoice workflows all filter through the procurement software. Once the invoice is approved, finance teams then process the payment via their own accounts payable system, such as SAP or QuickBooks. Plus, productivity applications like Slack and Microsoft Teams are used frequently to manage approval requests and status updates.
At this point you may be thinking, Wow, I can relate! or Wow, that's a lot of separate apps!
Either way, think of these applications as links in the P2P cycle — integration is what connects these links to drive true automation.
Integrating these key applications ensures consistent, accurate, and bi-directional data flows, streamlining and automating the P2P process from end-to-end. Organizations who do so will increase efficiency and visibility for smarter decision making.
But that's not even half of it.
Procurement leaders will reap the benefits of P2P automation on an organizational, departmental, and individual level.
Here are some of the business-critical benefits your organization will reap by implementing P2P automation:
Eliminate errors caused by manual entry
Organizations who automate procure-to-pay processes reduce problems like duplicate or incorrect invoicing and sending payments to the wrong suppliers.
Increase cost savings
Reduce operational costs by avoiding costly delays and eliminating time-consuming manual data entry. When data and processes are automated, there's very little need to expand overhead as operations grow.
Enhance visibility & spend analysis
Get a unified view of real-time spend across a company's various departments to equip finance leaders with better data for more accurate projections and more informed decision making. Deeper insights into procurement also allow businesses to negotiate better pricing with vendors, prevent unauthorized purchases, and ensure accurate supplier invoices.
Ensure compliance
Develop business rules, import real-time regulation data, and create workflow logic to help guarantee and enforce internal compliance, be it from government regulations, vendor contracts, or specific company policies.
Streamline supplier management
Simplify and improve supplier relationships by creating a consistent exchange of information between buyers and suppliers. This streamlined exchange of information reduces risk of delayed shipments and invoice discrepancies.
Let's see it in action.
Here are specific examples of common P2P workflows that can be automated by integrating a company's business spend management software like Coupa with its ERP or ITSM platforms.