Vinyl for Life Sciences
Rapidly build applications and adapt for better results.
Life Sciences
The Vinyl Solution
Life Sciences companies require expert knowledge in a broad range of solutions, with an emphasis in compliance and security.
Vinyl transforms the way Life Science leaders create value, go to market, and manage compliance.
Vinyl, our low-code application development platform, has profound business knowledge built-in enabling you to create end-to-end enterprise-grade applications with sophisticated logic, workflows, security and integrations to any and all of your systems in weeks, not months/years. Increase your competitive advantage in the fast-changing life sciences landscape using this evolutionary platform.
Schedule a Demo
Request Your Demo Now
Video
Vinyl for the Life Sciences
In Practice
Life Sciences Use Cases
Our customers' use cases span across the entire organization to include R&D, Medical, Commercial, and Corporate Operations for businesses of all sizes.
Access and Asset Management
Contract Management
COVID Response
Employee Self Service
Financial Transparency
Forecasts and Accruals
Government Relations Management
Guided Buying
Headcount Planning
HR Onboarding and Offboarding
Inventory Reporting
Investment Planning and Budgeting
Invoice Reporting
Master Data Workflow
PO Actualization
Procurement Dashboards
Talent Acquisition and Turnover
Account Planning
Approved Communications
Business Planning and Launch Plans
Clinical Trial Management and Study Tracking
Custom CRMs and Extensions
Digital Material Presentation
Dynamic Prescriber Surveys
Field Budget Management
Field Coaching Reports
HCO COVID Requirement Tracking
HCP 360
Incentive Compensation
KOL Identification
Market Analytics
Medical Communications Planning
Medical Information Request Form
Promotion Management
Roster Management
Salesforce Effectiveness Reporting
Speaker Bureau Planning
Talent Calibration
Veeva Vault Extensions
Veeva CRM Extensions
Anti-Bribery and Corruption (FCPA)
Call Note Compliance Review
Compliance Dashboard
Consent Management
Equity Trade Requests
Fair Market Value and Needs Assessment
FDA Inspection Management
Global Distributor Due Diligence
Global HCP Engagement
HCP Abuse Detection and Deterrence
Speaker Reporting
Sunshine Act
Suspicious Order Monitoring
Responsive Design
The Vinyl Difference
Vinyl introduces a new level of responsive design, security, and data display. Connect to disparate data sources and use disparate security providers on the same page at the same time – without writing a single line of code.
Key Benefits
Lite Integration™ – Any Data Source Integration
mvSQL – Data and Logic Standardization
Support for OAuth and SSO
Built-In Localization and Multilingual
Mobile Options – Responsive Design and Native
Electronic Signatures
Full Audit
GxP Compliance Enablement
Cross Platform CRUD
No-Code REST Connections
Exposing Any Source (Including Vinyl) as REST API
Multi Deployment Options – On-Premise, Cloud, Docker
Integration
Easily Integrate with Veeva
Currently a Veeva Customer? Vinyl helps Veeva® customers to maximize their existing investment in Veeva products by empowering them to easily create fast, impactful applications that integrate Veeva and non-Veeva systems. These applications are completely customized to your processes and data source landscape, mobile-ready, and can be instantly deployed to field teams.
Veeva and the Veeva logo are registered trademarks of Veeva Systems. Veeva Systems owns other registered and unregistered trademarks. Use of them does not imply any affiliation with or endorsement by them.
Accelerators
Vinyl Application Accelerators
Vinyl accelerators – our best practice data models – help expedite the time to production and serve as a strong starting point for customers. Once installed, they can be configured to specific business processes and integrated into existing systems.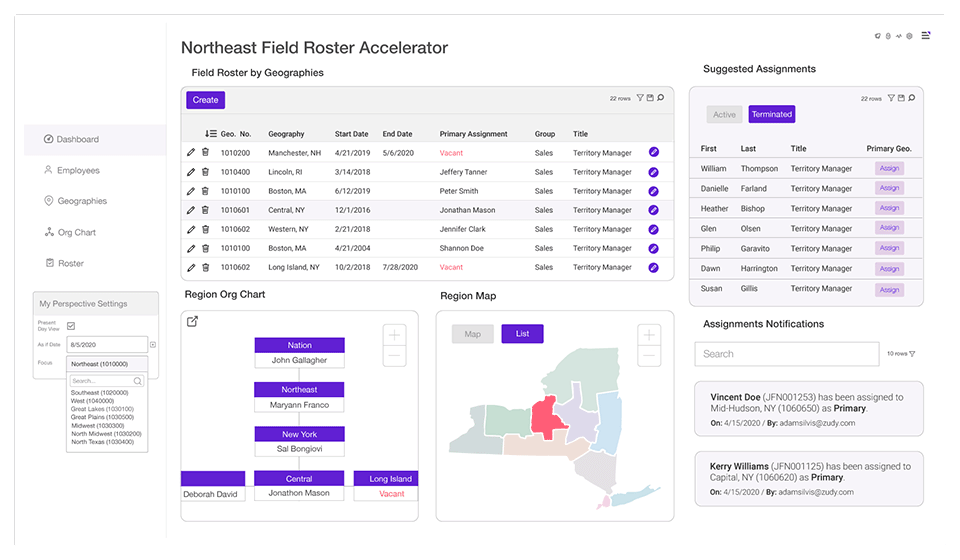 Field Roster Management
The Field Roster Accelerator is a centralized platform for all roster management needs making it easy to integrate to any upstream or downstream systems, including HR, Incentive Compensation, and Field Coaching.
Features and Functionality:
Assignment Based on Suggestion Alert
Attribute Management
Change History with Full Audit
Custom Reporting
Field Onboarding (Optional)
Geography Mapping
HR Onboarding Workflow
Orchestrate the onboarding process by automating the myriad of systems and steps involved with hiring both home office and field-based employees within a cloud based platform.
Features and Functionality:
HR System Integration
External Data Source Integration
Employee Onboarding Templates
Configurable Task Generation
Automated Workflow
Email Notifications
Custom Reporting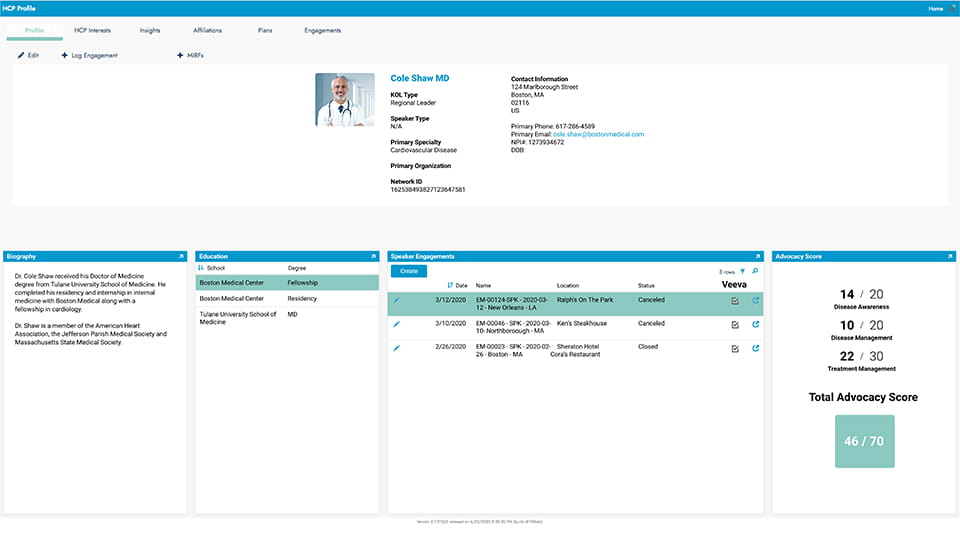 Custom CRM
Easily build and customize full function CRMs for both field-based and home office teams without costly implementations.
Features and Functionality:
Activity Reporting
Capture Interactions
Customized Profiles
Dynamic Surveys
Manage Planning and Key Initiatives
5-Star Review
"There hasn't been a use case that has been too big or too small."

"Because of the fact that Vinyl can connect to a lot of different data sources, and just about any API, it gives you a great deal of flexibility. You are almost limited by your imagination, more than anything else."
Pharma/Biotech Customer - Vice President of IT
Our Customers
Customers We Enable
Our customers often build tailored solutions within Vinyl that leverage a combination of core data sources. These solutions are fast to build, secure, low maintenance, and cost-effective compared to traditional off-the-shelf solutions.
All product and company names are trademarks™ or registered® trademarks of their respective holders. Use of them does not imply any affiliation with or endorsement by them.