By Manoj Chaudhary, CTO
In the Age of the Customer, a Customer Relationship Management (CRM) system is the core technology that enables enterprises to create exceptional customer experiences throughout the customer journey. But a CRM system cannot act alone; it needs to work in concert with many other software systems.
What is CRM Integration?
CRM systems are technologies used to understand customers by collecting customer data, overseeing interactions, and managing business processes related to the customer lifecycle. CRM systems have been around for over three decades and 91% of companies with over 10 employees have them.1 Some of the most popular CRM systems are Microsoft Dynamics 365, Salesforce Sales Cloud, SAP, and SugarCRM.
What does CRM integration mean? CRM integration is a strategic initiative that enables the development of exceptional customer experiences. CRM system integration is the process of stringing together the many business processes and systems that move the customer through the lifecycle like creating orders when products are purchased, sending relevant notifications to customers, shipping products via logistics, and booking revenue within an Enterprise Resource Planning (ERP) system. CRM integration enables synchronization of customer data across systems and creates a 360-degree view of customer data. Amazon is the poster child for knowing what customers want and delivering a frictionless customer experience. The integration of their CRM enables the company to offer recommendations on products, provide timely responses to support tickets, and drive relevant upsell opportunities, all in a personalized way.
Challenges Faced Without CRM Integration
In today's current economic climate, companies without CRM system integrations face numerous challenges that stifle their ability to compete.
Manual Processes Everywhere
 Manual processes are time and labor intensive, error prone, prevent companies from maximizing the value of their systems, and inhibit people from obtaining access to data in a timely manner. CRMs and other applications serve to automate processes within functions (customer management, customer service, order desk, etc.). But gaps remain between functions so manual processes are often used as a stop gap solution.
Companies that are mired by manual processes often hear their customers lamenting about poor customer experience due to the inaccurate information they receive or due to the lack of visibility of the information they seek. Analysts must spend time working in 15 different systems, pull data out of one application, put it into Excel, add data from another source, run a pivot table, export the data, and load it into a CRM or other system. This takes hours or days depending on the amount of data being processed and any issues that might arise as a result of this activity. These manual processes are costly in terms of resource time and errors from manual entry, and prevent analysts from performing higher value work.
Lack of IT Resources
Another challenge is that IT often custom-codes integrations that connect key applications such as CRM and ERP, and more. While it may seem like custom-coding integrations by the IT department is the appropriate or most expedient thing to do, in reality custom-coded integrations do not scale. The current economic climate requires companies to release new customer experiences all the time, which means building upon existing integrations and sharing customer data not only across various departments within the enterprise but also sharing this data securely with 3rd party partners. The issue with custom code is that it is not easily extensible and causes a vicious cycle that eats more and more IT resources without providing extensibility and scale.
Inability to Achieve Strategic Customer Experience Initiatives
Integration is a strategic imperative for delivering exceptional customer experiences. The lack of CRM software integration prevents companies from having an infrastructure that is agile and extensible for building a customer 360 view and driving innovative customer experiences. Without integration you cannot compete with the nimble Amazon-like companies in your industry.
Main Types of CRM Integrations
To identify the main types of CRM system integrations, simply look at the customer lifecycle. Each stage of the lifecycle has business processes encompassing different systems to handle the internal processes of the customer journey. Let's start at the beginning of the customer lifecycle and identify the common applications.
Marketing-CRM Integration: Connecting Marketing Automation Systems
Marketing is usually focused on generating leads, driving sales, increasing customer satisfaction, and growing brand awareness. Before prospects become customers, they are considered leads. Marketing automation systems target leads by running campaigns across different channels, capturing information, scoring leads, and determining which ones are qualified to send to sales people. The marketing automation software helps to capture leads, drive sales, and maximize the efficiency of the marketing business processes.
Additionally, marketing wants to provide a seamless customer journey and view customers in the channels where they interact. This requires connecting channels. Marketing automation systems often provide integration to the most common channels (e.g., email, social media, website) but other channels require separate integrations.
The leading marketing automation systems such as Adobe Marketing Cloud, Hubspot, Marketo, Salesforce Marketing Cloud, to name a few, must be integrated with the CRM, collaboration apps, and others, to effectively market to a lead through the customer lifecycle and drive faster conversions.
E-Commerce-CRM Integration: Seamless Processing of Orders
Sales is focused on increasing revenue by acquiring, satisfying, upselling, and cross-selling customers. For sales, the most important information is a 360-degree view of the customer. The CRM is key in providing the view but must be integrated with other enterprise systems in the customer lifecycle. The CRM with the highest market share is Salesforce Sales Cloud but there are many others including Adobe, Microsoft Dynamics, SAP, SugarCRM, Freshworks, and more.
For e-commerce companies, e-commerce platforms provide capabilities like customer browsing, ordering, and taking payment. E-commerce platforms such as BigCommerce, Shopify, and Magento, must be connected to the CRM, ERP, and other enterprise applications.
ERP-CRM Integration: Sync Orders and Revenue between Front & Back Office 
Finance is focused on meeting revenue forecasts, overseeing cash flow, and providing financial reporting and analysis, and other functions. Finance relies on ERP software as the vehicle that connects people, processes, and revenue, and keeps a business running. ERP runs accounting, procurement, supply chain operations, and many other functions. ERP systems are involved in the customer lifecycle in many ways. For example, when a customer makes a purchase a sales order must be created. Business processes then trigger the creation of invoices, accounts receivables, and the update of inventory.
There is a wide range of ERP systems such as Epicor, Microsoft Dynamics 365, Oracle NetSuite, SAP S/4 HANA, Sage, Workday Financials, Infor, and others.
Customer Service-CRM Integration: Providing Timely Support
Customer service is focused on boosting customer satisfaction, reducing churn, and responding to customer needs quickly and intelligently. When customers have questions and issues, they contact companies to get help. This typically translates to tickets and bugs that are tracked. There is a broad range of applications to handle the different functions of customer service, support, and field service.
Customer service software handles omnichannel capabilities, self-service capabilities, and proactive interactions through predictive analytics and AI. Customer support software often called IT Service Management (ITSM), manages IT desk and incident request management. Field service software manages warranty and contracts, returns and repairs, maintenance, and scheduling field service work. All of these customer service-related applications must be integrated with a CRM.
Popular customer service and incident software systems include BMC, Cherwell, Jira, Salesforce Service Cloud, Oracle Service Cloud, ServiceNow, ServiceMax, Zendesk, and others.
80% of B2B and B2C customers now consider their experience to be just as important as a company's products and services when making a purchasing decision, according to Deloitte.
Benefits of CRM Integration
Innovative customer experiences are critical to compete in the Age of the Customer. Eighty percent of B2B and B2C customers now consider their experience to be just as important as a company's products and services when making a purchasing decision, according to Deloitte.2
CRM system integrations build the infrastructure that connects the customer lifecycle through marketing, sales, finance, and customer service systems. Data and systems are connected, business processes are automated, and IT resources are better utilized. With the right integration tools, CRM software integrations can build extensibility and scalability.
CRM Integration Tools: How to Integrate CRM with Other Systems
How to connect CRM with other systems? CRM software typically comes with APIs that allow other applications to access the CRM to add functionality such as adding a customer's support ticket to the CRM record. There may be native integrations built into the CRM software for the most commonly used applications (e.g., email and marketing automation), but most CRM system integrations require connecting to APIs. Using an Integration Platform as a Service (iPaaS) has become the most common way to perform CRM integrations quickly and in a scalable manner.
Integration Platform as a Service (iPaaS)
Integration Platform as a Service (iPaaS) is typically built on the cloud and is used for application integration, data integration, B2B ecosystem integration, on-premises integration, API publishing, and other use cases. iPaaS platforms work well for CRM system integrations because they can connect to the most commonly used CRMs, ERPs, customer service applications, or proprietary systems a company may have.
iPaaS solutions are usually based on an API integration platform that provides connectivity, workflow design, data mapping and transformation, and an integration lifecycle. Some iPaaS solutions offer pre-built components for connecting applications and automating business processes while others require IT to create the integrations themselves. iPaaS solutions with pre-built components simplify the easiest integrations but they may not provide the capability to handle more complex integrations that will be required as the business grows. iPaaS solutions have a self-service model that allows companies to leverage pre-built components to rapidly deploy integrations.
Jitterbit Customer Experience API360 (CX API360) – The Modern iPaaS Solution for Enterprises
Jitterbit's Customer Experience API360 solution is designed to accelerate the automation of popular business processes across the entire customer lifecycle. The CX API360 methodology is built on Jitterbit's industry-leading API360 framework and best practices from thousands of integrations by Jitterbit customers and partners to integrate key apps, services and platforms for business processes such as billing and invoicing, orders and fulfillment, customer management, and more.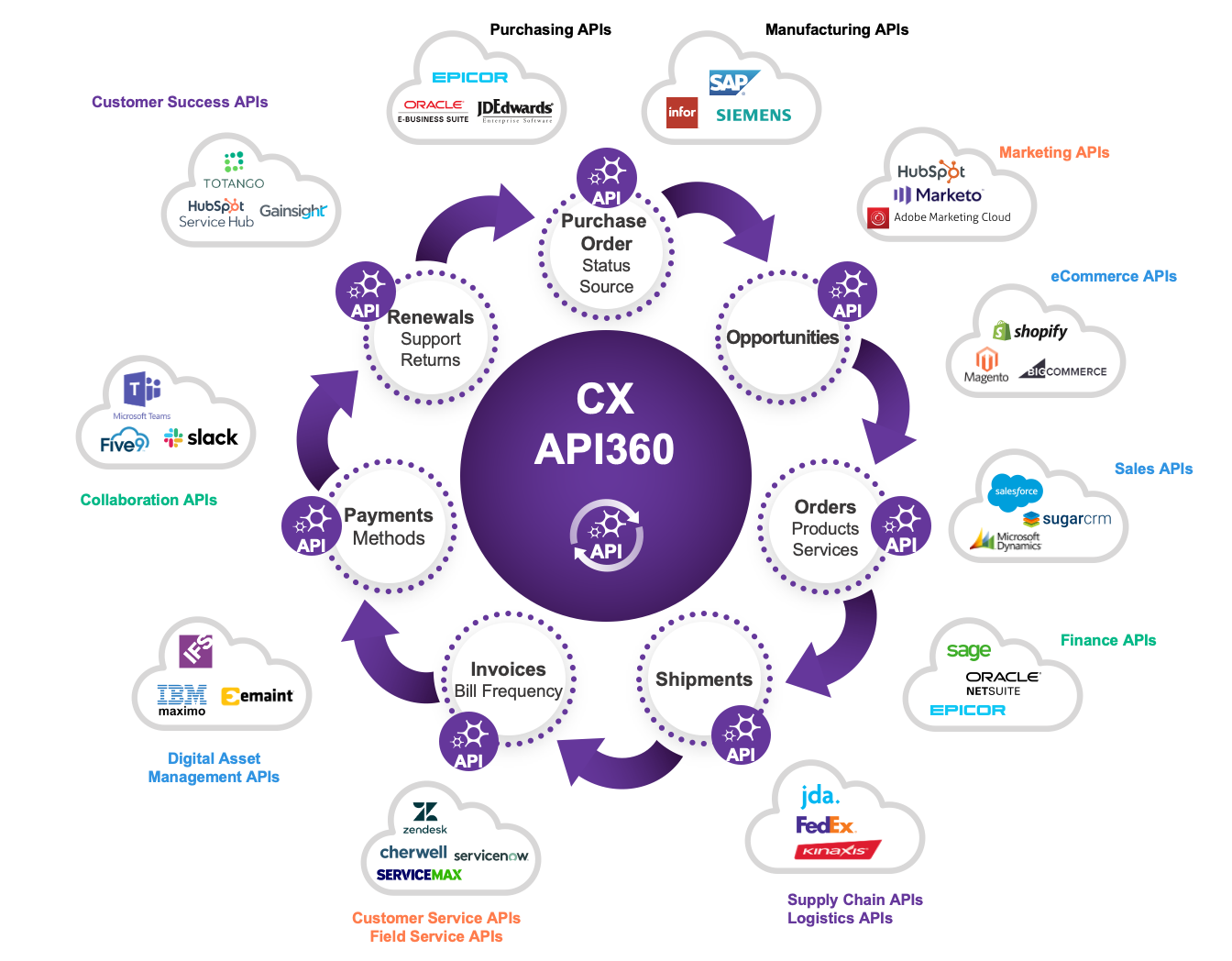 Jitterbit's CX API360 includes a complete toolkit that consists of a full lifecycle APIM suite for real-time data access and out-of-the box components to expedite integration and deliver faster ROI. It comes with these capabilities:
Single Platform for Integration


CX API360 is based on Jitterbit's API Integration Platform which has the robust capabilities to design, templatize, deploy, and manage integrations.

Out-of-the-Box Application Connectors, Integration Recipes, and Process Templates


Application connectors provide pre-built and reusable connectivity to a specific endpoint, such as Salesforce or NetSuite. Integration recipes are single, pre-built integrations that move data in one direction between like objects across two applications or systems (e.g., sync contacts between Salesforce and SAP). Process templates are pre-built use cases that accelerate the execution of specific business processes (e.g., Opportunity to Order for Salesforce and NetSuite) requiring connectivity to multiple objects and fields between the source and target application.

Intuitive Graphical Interface for Customizing Complex Integrations


For most companies, pre-built components can handle the most common aspects of integrations. But for more complex integrations, customization may be needed for transformations or other business logic. CX API360 offers the best of both worlds; pre-built components for the most common integrations and a drag and drop intuitive graphical interface to create reusable code. IT resources are minimized and the reusable code is extensible as the company grows.

API Management


API Management enables a company to create, run, secure, manage, and analyze all APIs and microservices using a single platform. APIs can access any application or data source either in the cloud or behind the firewall, any time.
The CX API360 toolkit is proven to speed up the automation of business processes by up to 80%. Learn more about Jitterbit's Customer Experience API360 solution for Salesforce integration.
Customer Success with Jitterbit CRM Integration for Salesforce
Salesforce Sales Cloud has the highest market share in CRM systems3 and helps companies enable customer journeys; but it's not a complete system. Jitterbit's customers across industries have integrated Salesforce CRM with other systems and have been able to:
  Create a 360-degree view of customers
  Enable "anytime, anywhere" interactions
  Achieve complete visibility into operations
  Improve data accuracy
  Empower employees to be more effective
  Save time and money, while increasing customer satisfaction
Companies across many industries have used Jitterbit to connect Salesforce CRM with other systems. For example:
Even Salesforce uses Jitterbit to integrate their own CRM to their back-office systems to reduce CPQ (configure, price, quote) process duration from four days to four hours and achieve 100% accuracy in delivering accurate quotes.
The Takeaway: CRM Integration Enables Exceptional Customer Experiences
CRM integration is a strategic initiative that enables the development of exceptional customer experiences. It is the process of stringing together the many business processes and systems that move the customer through the lifecycle. The challenges that companies face without CRM system integrations are manual processes, lack of IT resources, and the inability to achieve their customer experience initiatives.
Jitterbit's CX API360 iPaaS solution accelerates CRM integration and solves those challenges. It is built on Jitterbit's API360 methodology and comes with a complete toolkit of a full lifecycle APIM suite for real-time data access and out-of-the box components. With CX API360, CRM integration becomes the infrastructure you need to compete in the Age of the Customer.
Read how companies from many industries used Jitterbit to integrate their Salesforce CRM to other systems and got more out of Salesforce.
Salesforce Customer Success eBook
1 Customer Relationship Management Market Size, Share & Trends Analysis Report By Solution, By Deployment, By Enterprise Size, By End Use, By Region, And Segment Forecasts, 2020 – 2027. Grand View Research, April 2020.
2 Ragu Gurumurthy, David Schatsky, Jonathan Camhi, Uncovering the Connection Between Digital Maturity and Financial Performance. Deloitte Insights, May 26, 2020.
3 Columbus, Louis, Salesforce Now Has Over 19% Of The CRM Market. Forbes, June 22, 2019.