By Greg Belkin, Senior Director, Product Marketing
---
Create a connected campus that keeps students and educators in sync with integration and workflow automation tools.
The dynamics of the college education are changing. Colleges are battling to attract students just as much, if not more, than students are fighting to be accepted. After battling a 9% decrease in undergraduate enrollment across the US between 2009 and 2020, the National Center for Education Statistics says enrollment is on an uptick again, projecting an 8% increase by 2030.
With over 90% of students expecting more advanced or innovative digital technology used at university, institutions must maintain a competitive edge by delivering the modern experience students demand. According to Cloud for Good's latest State of Higher Education Survey, 75% of institutions who responded had increased or significantly increased their technology investments over the past 12 months. How is your institution planning ahead and extracting the most value from your tech investments?
Implementing tools and strategies that enable a technologically connected campus ensures institutions are deriving the most value from their technology stack and provides the foundation they need to improve not only student experiences, but faculty and staff experiences as well, empowering a happier, stronger, and more unified campus overall.
How do you go about creating a connected experience on campus? It starts with integration across various on-premises, legacy, or cloud-based applications.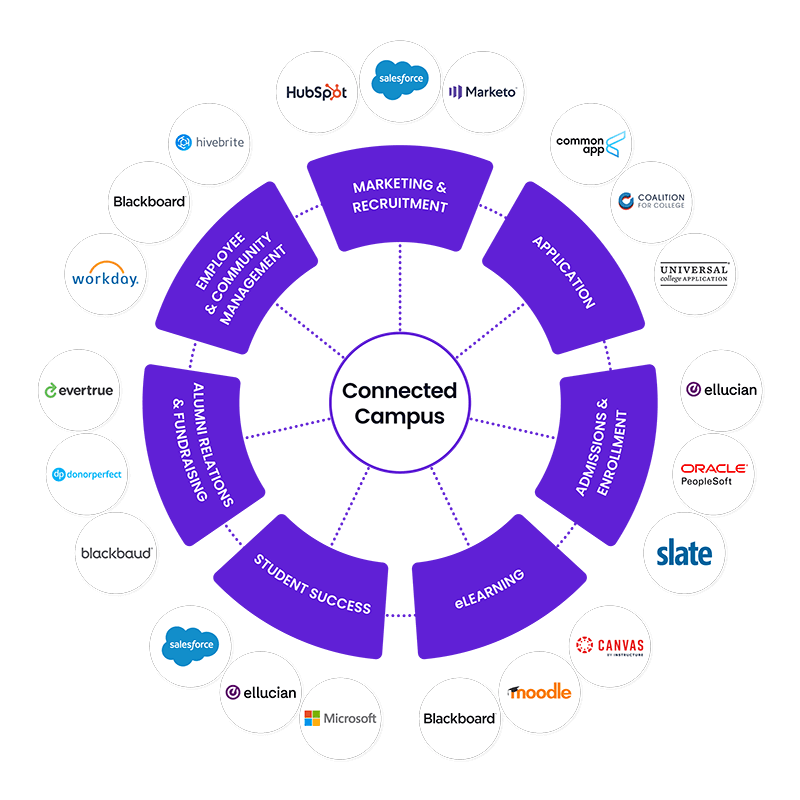 5 Steps for Creating a Connected Campus
By integrating systems across recruitment, application, enrollment, success, engagement, and fundraising processes, organizations can automate key workflows and unify experiences for all stakeholders (students, faculty, alumni, donors, and so on), while getting the insights they need to drive better outcomes overall.
Here are five steps to take when starting your journey to creating a connected campus:
Build an integration strategy: Crafting a thorough integration strategy is the first step to creating a connected campus. As with any new project, this is often a difficult stage to move up the ladder. But by thinking strategically about the desired outcomes and benefits, you can offer a sound plan of attack when questioned about implementation, business disruption, or ROI. Innovative integration strategies often rely on comprehensive iPaaS tools that offer a unified platform for integrating and automating different applications, as this option is less resource intensive and more cost friendly than point-to-point integrations.
Ask for feedback from your teams: Your organization is a unified force – and data silos amongst your teams are your biggest enemy! Chances are, you're not the only one thinking there are areas of your organization that need better processes or workflows. Automation affects people differently across the organization, so it's important to open the discussion with people across teams to identify and align focus areas with overall strategic goals.
Think interdepartmental: Students are the face of a college or university, so it's natural to think about the student experience first when approaching an automation strategy. But departments behind the scenes, like human resources, finance, admissions, procurement, etc, utilize software that drive modern student experiences. Plus, giving internal teams the tools they need to work smarter and happier means you're fostering a more positive and unified campus experience for all. Student experience may be the hook, but all departments working seamlessly together is the sinker.
Think multi-persona: When designing the overall integration strategy and architecture, thinking about the needs of multiple types of users is key. How can your integration layers empower different teams and business processes, and not just the one use case or workflow you want to solve initially. Automation reaches multiple corners of an institution which means that information needs to be unlocked in a flexible manner.
Plan for additional data inputs: Plan for the idea – and ultimately the reality – that you will need to expand the integration scope over time. The efficiencies seen with workflow automation will drive your teams and students to demand even more process improvements. Before you reach this point, you must acknowledge who will make decisions about which data points are integrated? How the process will be managed? And, who will actually build it out?
Bonus tips:
Create a test plan: Think about who will be involved, what their roles will be, and what time they will need to dedicate to facilitate a successful go-live.
Build solid documentation: Create a solid framework for documenting your integration solution to track the transformations, which becomes even more critical as teams evolve and expand.
Hungry for more higher education insights? Watch the webinar below with our partner Cloud for Good to uncover industry trends and learn about three institutions' innovative use cases for automation.
Top institutions trust Jitterbit to power their Connected Campus.