Applications
Experts in ServiceNow Integration
Integrate ServiceNow with other applications to enable a 360-degree view of your customer and employee service strategy

Get a 360° View of Service Data to Enhance the Customer & Employee Experience
An effective service strategy has become a key requirement for business success today. ServiceNow's IT Service Management (ITSM) solution is a cloud-based platform that helps modern organizations improve productivity and enhance the customer and employee experience. Jitterbit's Integration Platform as a Service (iPaaS) offering offers fast, flexible integration with legacy, on-premises, and cloud applications. You can build reliable, scalable integrations for ServiceNow that extend into any business process to increase data accuracy, achieve widespread automation, and support new business objectives.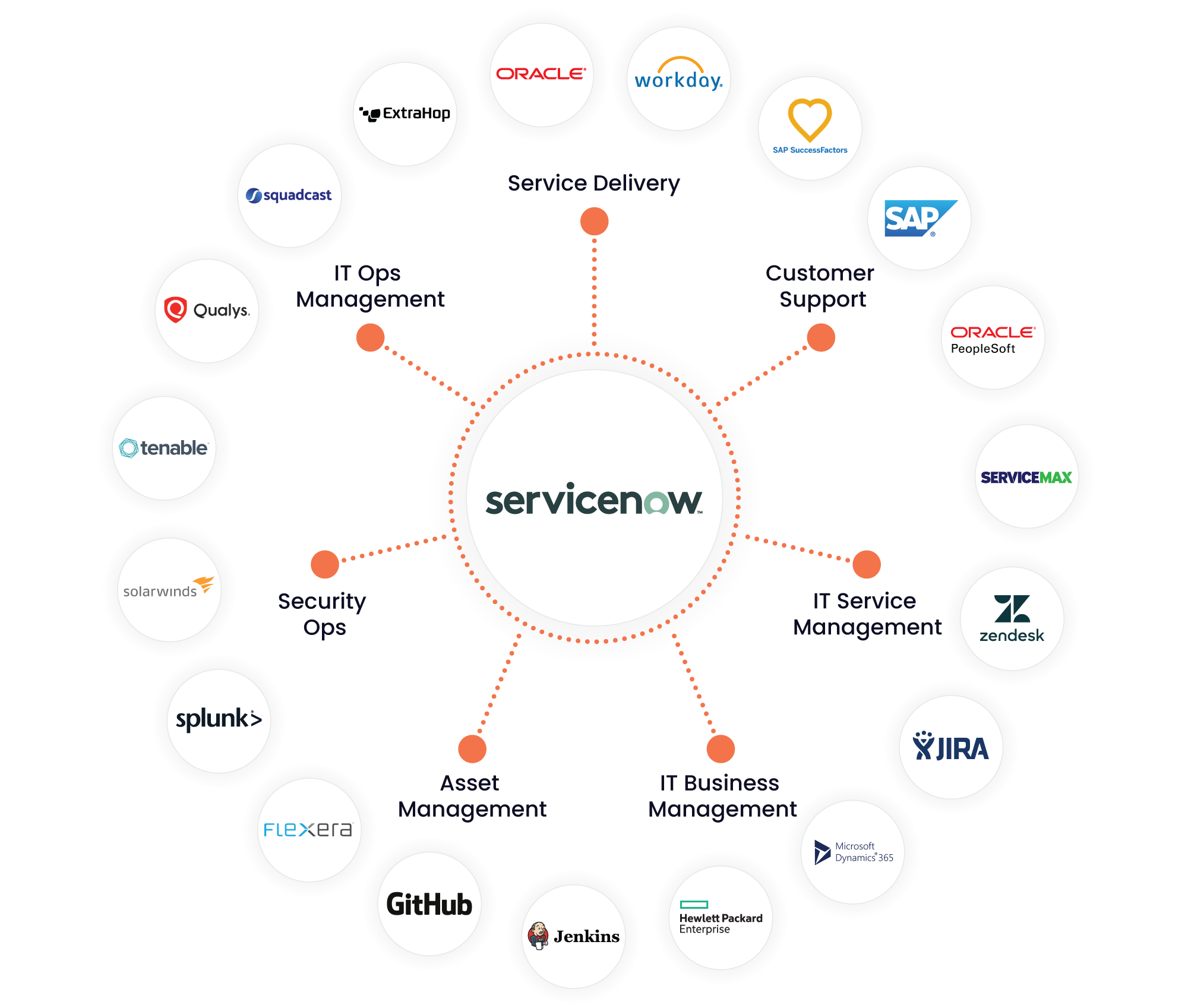 One iPaaS. Infinite Integration Solutions.
Our ServiceNow integration solutions are built on an extensible Integration Platform as a Service (iPaaS) that enables you to easily connect your SaaS, on-premises and cloud systems. Quickly automate your business processes and build your real-time business processes by using intuitive integration design tools, pre-built solutions, and an API management (APIM) suite. Jitterbit's integration platform helps companies get full visibility into the business, driving greater efficiencies in your organization, and providing the flexibility to pivot to new business opportunities quickly.
Get started with ServiceNow integration
Learn
ServiceNow Integration FAQs
What are the most common use cases for ServiceNow integration?
ServiceNow integrations can vary in size and scope. With each integration, a robust service delivery mechanism is established, eliminating redundancy. This helps keep costs in check and improves collaboration across departments.
Human Capital Management (HCM) Integration:
Use Case: Streamline the otherwise complex processes of onboarding/offboarding by syncing employee asset allocation/collection, software/hardware requirements and system accessibility needs across multiple systems.
Outcome: Employees are equipped quickly with right resources to be quickly productive or smoothened departure process.
Systems to Connect: Workday, Oracle, SAP SuccessFactors, etc.
Customer Service Management (CSM) Integration:
Use Case: Create, capture, and modify customer cases with a streamlined exchange of information and provide accelerated resolution.
Outcome: Effective customer service management with efficient tracking and record maintenance bringing transparency to the process, ultimately leading to increased customer satisfaction.
Systems to Connect: Salesforce, Netsuite, Zoho, SAP.
Incident Tracking Integration:
Use Case: Integrate third-party ticketing software to effectively manage customer support tickets.
Outcome: Uniquely identified and tracked tickets, synchronized notifications across multiple systems resulting in accelerated issue resolution, optimized customer support, and improved customer experience.
Systems to Connect: Jira, ServiceNow, SolarWinds, Freshservice, etc.
IT Asset Management (ITAM) Integration:
Use Case: Tackle silos between ITAM and ITSM, control costs, reduce duplicate efforts, and create more visibility.
Outcome: Streamlined asset provisioning and improved IT inventory management and scope to effectively strategize the use of IT resources.
Systems to Connect: SolarWinds, Freshservice, ServiceNow, Snow, etc.
Why choose Jitterbit for ServiceNow integration?
Jitterbit is a verified ServiceNow integration partner. With years of experience in building ServiceNow integrations for a multitude of applications, including on-premise and cloud-based, Jitterbit and our community of certified partners have the expertise to provide you with ServiceNow integrations that enable fast time-to-value, drive greater efficiencies in your organization, and increase the flexibility to pivot to new business opportunities quickly.
Jitterbit Harmony – Integration Platform as a Service (iPaaS) – provides powerful ServiceNow API integration tools that make it fast and easy to connect business flows, providing the following advantages:
Speed. Most of our customers are up and running with their first integration in less than 30 days. But perhaps the most important factor is how fast you can build additional integrations to deliver compelling customer experiences. Your business is adding new technology all the time. It's not only about how quickly you develop your first integration but also how fast you can connect the next one. Jitterbit has a robust toolkit that shortens integration time and provides the standardization of integrations and the reusability of code.
Simplicity. Jitterbit is simple and designed for the technical business analyst. The graphical "clicks not code" approach, pre-built ServiceNow Connector, Recipes and Templates, and a state-of-the-art cloud platform, simplify the design, deployment, and management of ServiceNow integration projects.
Trust. No matter how complex or straightforward your ServiceNow integration is, our team of experts is always available to help you every step of the way. We're #1 in customer satisfaction and received the highest B2B integration score in the 2020 Gartner Critical Capabilities Report for Enterprise iPaaS.